University grows traditional brand and innovates for future development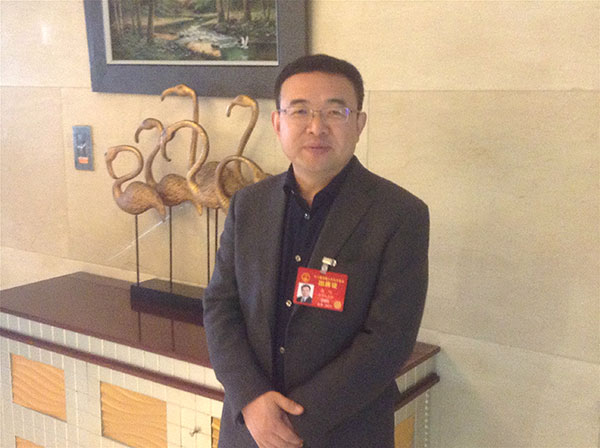 Gao Ling of Xi'an Polytechnic University, who's also a NPC deputy.[Photo by Jiang Xingguang/chinadaily.com.cn]
"Colleges and universities should always maintain and strengthen their traditional advantages and brand," said Gao Ling, president of Xi'an Polytechnic University, who's also a NPC deputy, when talking about how to build double first-class universities in an exclusive interview with chinadaily.com.cn on March 4.
The term "double first-class university" refers to the terms "world-class university" and "first-class discipline", which were approved by China's national deepening reform lead group in 2016 as a new impetus for the development of China's higher education sector.
The two sessions -- the annual gatherings of the nation's top legislature and its top political advisory body-- start in early March. The NPC session opens on March 5, 2017, two days after the CPPCC National Committee session gets underway. Some 5,000 participants from the NPC and the CPPCC National Committee will attend the event.
Gao said that universities, especially the typical industry-based ones, should always retain their distinctive features at each stage of development.
For example, Xi'an Polytechnic University, formerly known as the Northwest Textile Science and Technology University, has a traditional advantage in the textile engineering discipline, said Gao.
In today's innovative economy, the textile industry is no longer just common clothes, but includes new materials, such as high polymers, which are widely used in the modern space industry.
New textile materials can be light, soft, heat-resistant and environmentally-friendly, and can be part of a complete industrial chain, according the Gao.
"We should also keep in mind that the demand for tailor-made clothes is on the rise," said Gao. "So we must develop the textile discipline in our schools in an innovative way to satisfy the market."
As for regional universities located in Central and Western China, their development mode in building the double first-class universities should be different from those famous research-oriented universities in relatively developed areas, Gao explained.
When asked how to improve the students in building first-class disciplines, Gao said that his school is reforming its English language teaching program to offer students more international vision and to strengthen the foundation of various majors.
"We are doing an experiment in teaching specialized courses to senior students in English," said Gao. "I hope that more students will improve their English ability when learning about their major, and thus have a competitive advantage in the talent market."
Compared with the method of choosing a few students for the international exchange program, which usually costs a lot, the experimental method -- which relies on hiring qualified foreign teachers -- saves money and brings real benefits to more students, added Gao.
"We are always open to international professionals to upgrade and diversify the talent pool of our school," said Gao.
According to its website, over the past few years, the school has established a long-standing cooperative relationship with more than 50 universities and organizations around the world, including those from the US, the UK, Australia and Canada.