Hollywood star feeds panda cubs on visit to Chengdu
Hollywood movie star Lee Pace was invited by the Chengdu Research Base of Giant Panda Breeding in Sichuan province and Conservation International to have a one-day nursing experience at the base on Tuesday.
Pace, who is known in China for his role as Thranduil in The Hobbit trilogy, said he was thoroughly impressed with the way Mei Yan, a young keeper, fed panda cubs with bottled milk.
When Mei Yan shouted "Time for milk" in Sichuan dialect, all of the panda cubs ran to her and sat on the grass quietly waiting for their turn.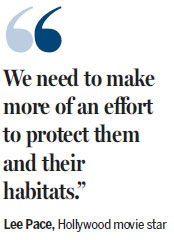 "The pandas knew it was time for milk, because they saw me carrying the bottles and heard me shouting," Mei said.
Under Mei's guidance, Pace took a bottle and fed a cub in his arms, as if it were a human baby.
After visiting the Moonlight Delivery House where Pace learned how to bottle-feed panda cubs, he visited the Giant Panda Cub Enclosure to learn from keeper Tan Jintao about how to feed young pandas apples. Using a long bamboo pole with an apple attached on a piece of string, Pace fed four pandas to the cheers of onlookers.
His last stop was the Panda Kitchen, where he saw how cakes for the pandas are prepared and joined in the preparation process.
Although Pace's visit was short, he showed a keen interest in giant panda conservation.
"They are so adorable and should not be allowed to become extinct as the result of human activities. We need to make more of an effort to protect them and their habitats," he said.