Guangdong sees post-holiday influx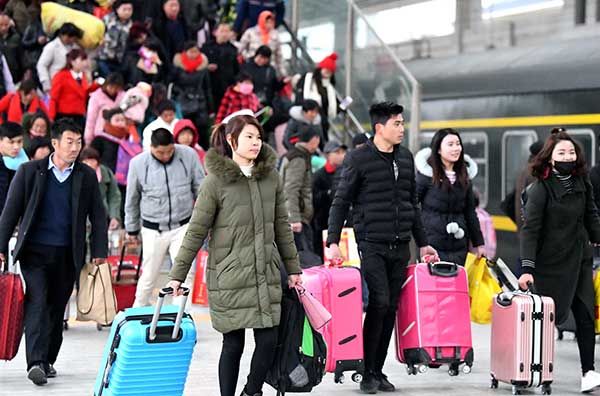 Passengers head to board trains at the Bozhou Railway Station in Anhui province on Tuesday, the last day of the Spring Festival travel rush.[Liu Qinli/For China Daily]
With this year's Spring Festival travel rush ending on Tuesday, a report based on data of online train-ticket sales said that more than one-third of travelers since the end of the holiday have headed to Guangdong province.
The report, released by 360 Technology Co, analyzed ticket sales between Jan 30 and Feb 21. Its findings were based on data collected through its browser plug-in that helps users buy train tickets online, according to Zhang Lanpu, a data analyst for the report.
"The data shows that Guangdong province, with its advanced economy, developed industries and favorable weather conditions, is the most popular province for migrant workers," Zhang said.
Following Guangdong, Beijing, Shanghai and Zhejiang province have been the most popular destinations since the end of the holiday, according to the report.
The four places account for 66.2 percent of all migrant workers heading back to work after the holiday, the data showed.
"The migration before the holiday shows people moving from developed areas to less-developed central and western regions, while post-holiday migration has seen the reverse pattern, with people moving from less-developed regions to developed areas," Zhang said.
Hubei and Hunan provinces saw the biggest exodus of migrant workers following the holiday, the report said.
The 40-day travel rush, which started on Jan 13 and is renowned as the world's largest annual human migration, had seen 2.7 billion trips made as of Monday, according to the Ministry of Transport.
A total of 408 million trips were made between Jan 27, Lunar New Year's Eve, and Feb 2, the ministry said.