TCM manufacturers warn product name crackdown could cost billions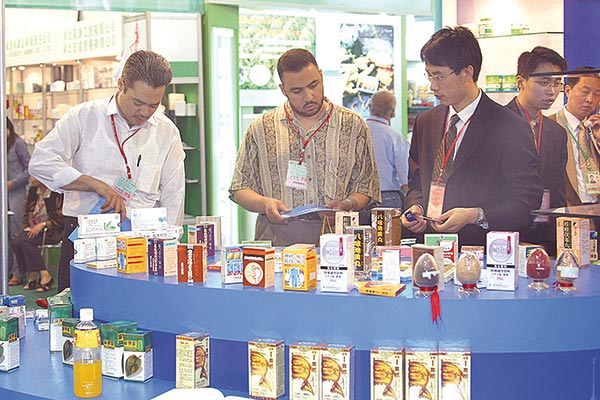 Some European businessmen inspect traditional Chinese medicine products of a drug store in Guangzhou. [Provided to China Daily]
Remember the ointment for hemorrhoids that Westerners have been raving about on the e-shopping site Amazon?
By May last year, about 1,000 users had gone online to praise the Mayinglong Musk Hemorrhoids Ointment Cream that promises to relieve their pains, describing it as "fantastic" and "like applying rose-colored ice cream to your bum..."
It's one of thousands of products that would fall foul of a draft naming rules issued by drug regulator China Food and Drug Administration in January.
The deadline for submissions on the draft guideline was Feb 15.
Under the draft guideline, TCM products should not be named after people, places or companies, or use superstitious or vulgar words.
Product names should also not include words that hint at the pharmacology, anatomy, physiology, pathology and therapeutics, such as anti-inflammatory and cancer, the draft guideline says.
Overstating, boastful and unrealistic words should also not be used in the names, such as "ling" (very effective), "suxiao" (quick acting) and "yuzhi" (made by emperor order).
The regulation would apply to both new and old TCM products, meaning at least thousands will be affected by the new policy. More than 2,000 products alone use the word "ling" according to a database of the regulator.
Yunnan Baiyao Group quality director Li Jin said that the company has seven series of TCM products that use the company name, as well as tens of other products that use other banned words.
Yunnan Baiyao is a traditional Chinese medicine manufacturer based in Southwest China's Yunnan province.
"If Yunnan Baiyao had to change its name, its brand and reputation established over the past 115 years would be damaged, and the loss might exceed 10 billion yuan ($1.458 billion)," Li said.
Beijing Pharmaceutical Profession Association vice president Fu Lijia said that the name change would also require change to packaging, introduction booklets and other related products, which would also be huge costs. Companies would then have to invest more to promote their products with new names among users.
Liu Yue, an elementary school teacher in Kunming, Yunnan, said that ordinary people are familiar with names such as Yunnan Baiyao and Mayinglong ointment, and, if the names changed, they will feel very uncomfortable.
China has been regulating the names of TCM products since the 1990s, because lots of products were named without standards and problems existed, such as different products having the same name.
An industry insider said that some companies gave astonishing names boasting about the healing power of products, and senior consumers might be cheated.
Fu also admitted that it was necessary to have regulations on naming the TCM products. "In the past, names of many TCM products were approved by local governments, and there was no universal rule."
Chen Qiguang, a research fellow with the Chinese Academy of Social Sciences, said that using names of people and places was a tradition in TCM products, which was a way of showing respect to their contributions.
Zheng Jin, head of the TCM management bureau of Yunnan, said that the names of the TCM products should be regulated, but the old brands should also be respected. He said the new products should be named under the new regulation, but it should not be apply to old TCM products.

Related story: