Public to give police tipoffs via new app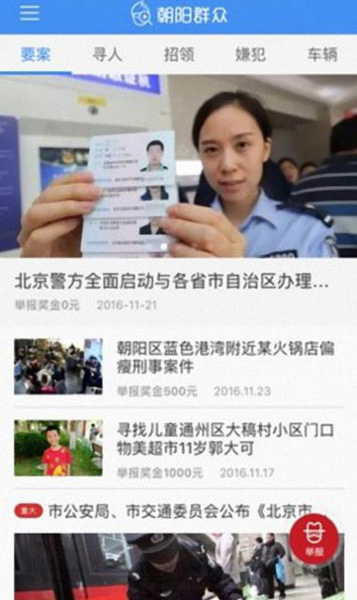 A screen grab of the Chaoyang Qunzhong app's front page.
Beijing police have launched a whistleblower app for members of the public to report tipoffs about crimes and help maintain public security.
The app went viral on Tuesday because it is named after the mysterious whistleblowers who have been repeatedly described by the police authority in the capital as "Chaoyang Qunzhong", which means "the public in Chaoyang district".
The name has been frequently cited as a source of tips for the Beijing Municipal Public Security Bureau in cracking down on major criminal cases, such as those involving drug use and trafficking, as well as prostitution.
Chaoyang Qunzhong has jokingly been referred to by netizens as the fifth-largest intelligence agency in the world, in addition to well-known agencies such as the FBI in the United States and the British intelligence service MI6.
The app, launched by the public security sub-bureau in Chaoyang district in August, has been upgraded four times.
At present, it is still in the testing stage. Users can download the app and register free of charge.
The Chaoyang police authority said on Sina Weibo that the app aims to build closer ties between police and residents, and it hopes Chaoyang Qunzhong plays a bigger role in fighting crime.
The authority said developing the app expands the number of Chaoyang Qunzhong protecting social order and public security.
Five categories of tipoffs are listed on the app, but only two of them - major crimes and missing persons - are active.
Chaoyang district is the largest and most modern in Beijing, covering an area of more than 470 square kilometers. It is home to most embassies and high-end residential buildings.
The nickname Chaoyang Qunzhong is said to date back to 1974 when people in Chaoyang district joined forces with police and netted spies from the former Soviet Union.
The latest case involving assistance from Chaoyang Qunzhong was a crackdown on an illegal fireworks warehouse on Jan 8 following a tipoff from members of the public in the district.
Beijing police have stepped up efforts in mobilizing the population to fight terrorism in the capital in the past few years.
Any whistleblower will be rewarded a minimum of 1,000 yuan ($146) for a tipoff on terrorism and violent crimes. There is no upper limit for rewards.