On-campus services pose test for college authorities
In 2015, every student at China's almost 3,000 universities spent an average 1,100 yuan ($156) on online purchases and received 16 parcels each, making university campuses key areas of competition for express delivery companies.
The volume of deliveries and on-campus management of the companies' operations pose problems for college administrators.
Two years ago, parcels delivered to university campuses accounted for about 6 percent of the national total, which helped to create 70,000 jobs, according to a report published by a working committee for Campus Express, a public institute at the China Association for Campus Management, AliResearch, the research arm of the commerce giant Alibaba Group, and the Cainiao Network, Alibaba's logistics division.
With no unified, centralized distribution terminals, the "last kilometer" transport to campuses remains chaotic in many universities, the report said.
According to Yangcheng Evening News in Guangzhou, Guangdong province, more than 65 percent of express companies in the province conduct their on-campus business via the "stall" model, where parcels are scattered on the ground in the care of a courier who waits to pass them on to the recipients. However, different companies' stalls open at different times and in random locations, which means many students do not receive their parcels on time.
The same model can be seen at many universities in Beijing, which the report lists as having the largest overall campus delivery business in China. In most cases, the higher the number of universities a city has, the larger the campus delivery business, the report said.
At the University of International Business and Economics in Beijing, which has about 16,000 students, about 10 stalls are regularly located near the female dorm building, which has more than 2,000 rooms and is reputedly Asia's largest dorm.
The uncovered stalls resemble those at an outdoor market; the companies erect shelves to store parcels and then place portable reception desks in front of them.
A Tiantian Express employee, who preferred not to give his name, said the stall he operates with a colleague usually delivers 400 to 500 parcels a day. During the recent winter holiday, the number fell to about 50 because most of the students had returned home.
"The university doesn't charge us, but asks us to set up our stalls at fixed spots. We have to be here from 6.30 am to 7 pm every day to serve the students," the man said.
Yang Lei, who also works for Tiantian Express, said his team of three erects a stall at the Beijing University of Fashion Technology, which is located in their area of operations, and one person always has to be at hand to deal with the large number of parcels.
The report said campus courier stations should be designated as public welfare facilities and should be part of the campus infrastructure serving teachers and students.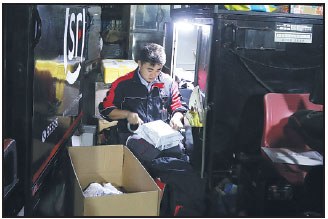 A worker sorts parcels at a center in Beijing.
(China Daily 02/03/2017 page6)