China's Generation Z in conversation with the world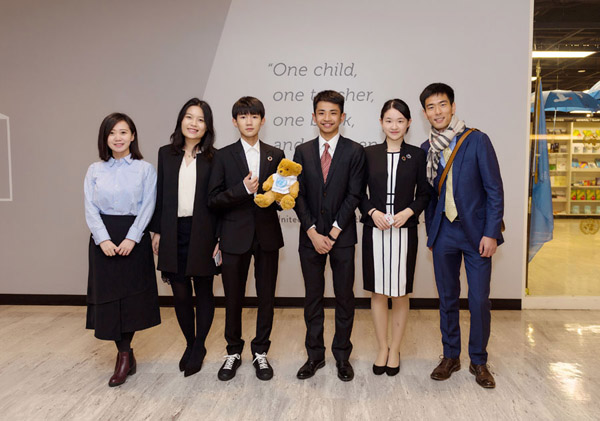 Six Chinese delegates pose for a group photo during the 6th UN Economic and Social Council (ECOSOC) Youth Forum at the UN headquarters in New York on Jan 30, 2017. From left to right: Meng Jun, Guo Xinli, Wang Yuan, Zheng Bozhong, Sun Hairuo and Gaoshan Junjian. [Photo Provided by the Chinese Delegation to the ECOSOC Youth Forum to CRIENGLISH.com]
While most Chinese teenagers are collecting red envelopes and watching fireworks, three were at the United Nations looking for solutions to global problems.
As the youngest delegates taking part in the Sixth United Nations Economic and Social Council (ECOSOC) Youth Forum, Sun Hairuo, Zheng Bozhong and Wang Yuan shared and learned from 500 international people aged 16 to 29 at the conference on Monday and Tuesday.
Wang, 16, is a teen pop-star with millions of fans. He has worked with the UN China Youth group to promote the "Imagine 2030" campaign, which aims at encouraging the young generation in China to reflect and envision the world they want to see in the year the Sustainable Development Goals are expected to be achieved.
"My topic is quality education. My passion for 2030 is that every young person can access good quality education and girls have the same potential to achieve amazing things as boys," said Wang.
"It's not that easy to speak at the UN. I made huge efforts to go through all the interviews and got finally picked by the committee. It's a great honor to be here," he said.
Sun, 17, and Zheng, 16, are student leaders at the high school affiliated with Renmin University of China in Beijing.
"It's a precious opportunity to learn from our peers from other parts of the world, to learn their takes and solutions on the problems we face in China," said Sun, who is co-founder of the China Youth Environmental Forum.
At a health conference where sexual and reproductive health has been the focus, Sun asked her peers what young Chinese advocates should do about reproductive health, as it is an issue people rarely talk about.
"A girl from Belgium shared her own experience, and encouraged me to stand up, to speak out and to talk to policy makers," said Sun. "That's my most important takeaway."
Zheng, a young speaker who has given many motivational speeches to peers, said he was most inspired by the older representatives who have made "real" changes in the world.
"Some representatives have developed mobile applications to contribute to good causes, and others have done outstanding scientific research," he said.
"Someday I'll be one of them, not only to advocate but to be part of a bigger change," said Zheng.
Wang said he was touched by an African delegate's speech.
"She talked about her nation's problems and she delivered a message to her government. That was the moment when I realize the power of the voice of youth. As a Chinese youth, I have a lot to do for my country," he said.
Another 17 young Chinese who work with United Nations organizations in China, the Chinese government, non-governmental organizations and universities also participated in the forum.
"Young people who are born after 2000 are starting to play important roles in our world," said Guo Xinli, a Chinese delegate at the forum who works for UN Resident Coordination Office.
"They are China's new engine. Having them on the international stage shows the new face of China," he said.
Judy Zhu in New York contributed to the story.