Volunteers race against time to record war history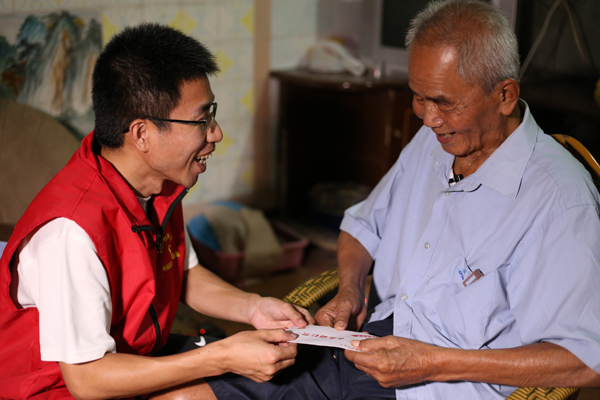 Volunteer Chen Shangyuan visits Huang Tanghua, a veteran of WWII, July 9, 2015. [Photo provided to chinadaily.com.cn]
Chen Rong, a veteran of World War II, does not fear death.
"We fear being forgotten and misunderstood," he told a volunteer interviewer.
Chen is one of the 108 veterans whose experiences about fighting Japanese troops more than 70 years ago have been included in a book put together by a group of volunteers.
Chen Shangyuan, an employee of PetroChina and the leader of the volunteer group, said "they did this to salute the veterans and let young people know the war history".
Between April and August 2015, the 70th anniversary of China's victory in the War of Resistance against the Japanese Aggression (1937-1945), Chen and other volunteers spent around 100 days recording the stories of veterans in East China's Fujian province.
With information collected from social network platforms, the media and other sources, Chen located more than 100 former military men in the province, and visited each of them, often chatting with them for hours, and taking photos of them.
"It is a race against time to write down the stories of the veterans," Chen said.
They were, on average, in their 90s, and more than 30 of them have passed away since he began the interviews.
Zheng Yongsui died aged 99 only one month after the volunteers visited him. In the funeral hall, the veteran's family printed the article Chen wrote about him after he visited the veteran, and displayed it as a eulogy.
"I felt sad for the veteran. It's just a story I shared in my personal social network account. But the veteran's family thought it was a published work and used it as a eulogy. I hope I could write a better one," Chen said.
"That shows how badly the veterans need recognition from the society."
"They feel respected when they see today's young people are still interested in their stories," Chen added.