An ever-changing Spring Festival tradition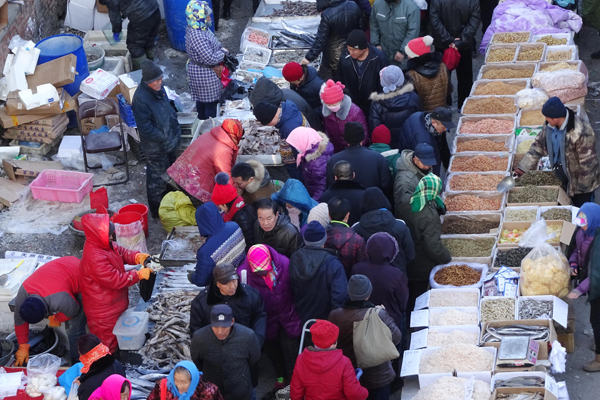 A country market for Spring Festival purchases in Dalian, Liaoning province throngs with customers.Liu Debin / For China Daily
"The blue-and-white bowls would be filled with a rich, meaty noodle dish, and left on the shrine as an offering," said Gao, adding that the family could only afford one such hearty meal per year.
As China's policy of reform and opening-up began, so did three decades of rapid growth. Per capita net income of rural households, such as Gao's, shot up to more than 11,000 yuan ($1,600) in 2015, from 130 yuan in 1978.
When Gao's son got married in the 1990s, his wife, Wang Shenglan, took over the responsibility of getting new tableware for the annual family dinner and bought new bowls and chopsticks at the county fair.
"She didn't have to wait for the peddler, but she did have to trek several miles to the county seat and the market," Gao said.
This annual shopping trip had to be planned ahead of time, and Wang would often make her new year purchases a month before the festival. "If it was a sunny day I would ride to the market on a tricycle," she said. The first year she bought six of everything, remarking: "Six is an auspicious number, you know."
This year, Gao's granddaughter Liu Lijuan took charge. The set she bought for her grandmother had been made in Fujian, a costal province thousands of miles away, but it only took a few days to be delivered.
On the eve of the Lunar New Year, the whole family will sit down together and tuck into the seafood that Liu also ordered online.
"Compared with the old days, it's like celebrating Spring Festival every day," Gao said.