Single this Spring Festival? The good news is you're not alone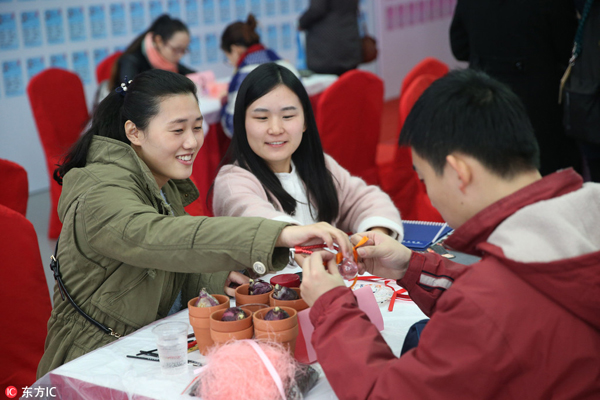 A blind date in Shanghai tries to bring singles together through needlework, Nov 28, 2016. [Photo/IC]
As the Lunar New Year approaches, more Chinese men and women are bracing themselves for questions about their unmarried status from nagging parents.
That's because the expanding gap between the male and female population has led to an increasing number of singles.
The gender ratio on the Chinese mainland was 105 men to 100 women at the end of 2016, according to data published by the National Bureau of Statistics on Jan 20.
The proportion of singles in the total population has nearly doubled from 7.8 percent in 2004 to 14.9 percent in 2014.
If you are one of them, we suggest having a look at what Chinese men and women look for in their partners in terms of region.
More than half of Chinese men and women tend to choose a spouse from the same province, according to consultant firm Dataway.
Geographically, women from Southwest China's Sichuan province are the most sought-after marriage partners.
Sichuan women are considered beautiful because they have fair skin thanks to the area's warm and humid climate, said a youth.com report.
On the flip side, men from Guangdong province, Beijing and Shanghai municipalities are the most favorable male partners, according to dating website Jiayuan.
Beijing males are famous for their enthusiasm, sense of humor, and loyalty to friends, while their Shanghai counterparts are gentle, respectful to females and always put family first, the report stated.
As for men from Guangdong province, they are smart, adventurous and practical, and have a sound financial position. All these characteristics contribute to a long-lasting marriage, Zhang Jiarui, a relationship expert, said.