Couple set for flight around the world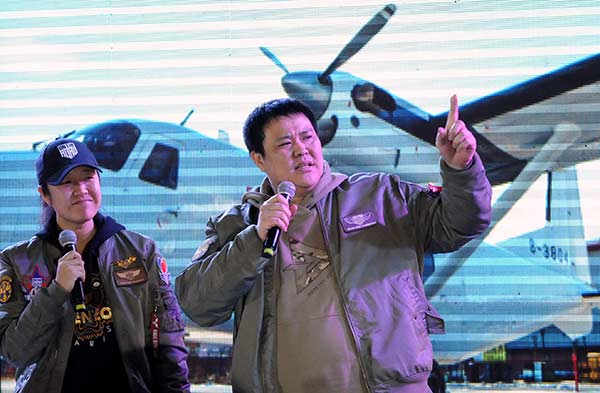 Zhang Xinyu and his wife, Liang Hong, will travel globally in a Chinese-made airplane. LIU YANG/CHINA DAILY
A Chinese couple with a penchant for adventure are planning an 80,000-kilometer round-the-world trip that will see them fly themselves to five continents, including Antarctica.
Zhang Xinyu and his wife, Liang Hong, plan to begin their journey by flying a Chinese-made plane from Harbin, capital of Heilongjiang province, to North America via the Russian Far East.
Their itinerary will take them to the Mexican Plateau and Chile's Atacama Desert before they arrive in Antarctica. Afterward they plan to fly to Africa via Brazil's rainforests, visiting Ethiopia and Kenya, before eventually returning to China via Southeast Asia, completing a journey that is twice the length of the equator.
"Many of the countries we want to go offer visa-free or visa-upon-arrival entry to Chinese nationals," Zhang said.
"I want my fellow people to know the world, and I want to document the kindness and the beauty of the world," he added.
Their trip is scheduled to begin before the end of this month, and the adventure will last until June.
In preparation, the couple completed a six-month training session that taught them skills such as flying at night or in complex weather conditions, as well as aircraft maintenance.
"I was moved when they said they wanted to pilot a Chinese aircraft to Antarctica," said Li Xinming, a manager at China Fly Dragon General Aviation, where the couple were trained.
"As professionals, we know all about safety."
According to the couple, only about 200 people are thought to have completed such an expedition and it is the first time that a Chinese-made plane will be used.
The plane, the Y-12, is a twin-engine utility aircraft built by Harbin Aircraft Industry Group, with a range of about 1,300 km. The aircraft has been used for many scientific missions.