'Empty-nest' youth on rise in China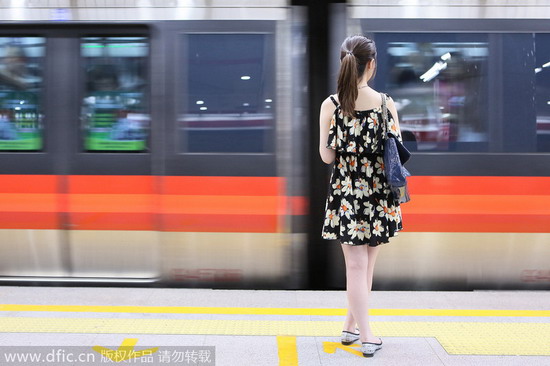 A young woman waits for the last incoming train of the day at Jianguomen station on May 22,2014. [Photo/IC]
China has lately witnessed an increase of so-called empty-nest youth, or young people who live alone, which experts believe is a cause for public concern.
Data from the National Bureau of Statistics shows that 12.45 percent of households were inhabited by one person in 2015. The figure in 2008 was 8.3 percent. Specifically, of this "empty-nest" population, solitary young residents are especially common, the Xinhua News Agency reported. The term "empty-nest" was originally applied to elderly people living alone after their children are grown and out of the house.
A report on empty-nest youth found that this group tends to feel lonelier than their peers, and their personal lives are largely confined to their rented apartments. As they typically live far from work to save money on rent, these youth often spend hours commuting, leaving them exhausted in the evenings.
Even so, this population chooses to live in big cities, as they are attracted to the opportunities in such metropolises. Meanwhile, empty-nest youth are more inclined to spend money on better food, high-quality clothes and digital products. Some 21 percent of the group have no savings or are slightly in debt, according to the report, which was conducted by Baidu Waimai and Wacai.com.
The emergence of empty-nest youth is a result of imbalanced social and economic development between big cities and smaller towns. It is also a natural result of China's ongoing urbanization, Wang Yingmei, an associate professor of psychology at Sichuan University, told Xinhua.
Still, experts warned that the growing size of this group could bring problems, affecting the population's psychology and marital aspirations. Some recommended that youth get in engaged in community activities.