Train tickets to Hainan hardest to purchase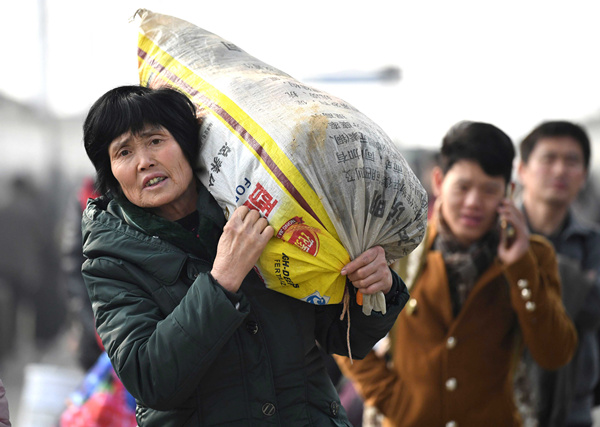 A passenger carries her luggage as she heads home for Lunar New Year celebrations at a railway station in Bozhou, Anhui province, on Thursday. [Photo by Liu Qinli/China Daily]
With the Spring Festival travel rush expected to peak starting this weekend, a report based on data of online train-ticket sales showed that people traveling to Hainan province have the most difficulties purchasing a ticket.
The report, released by 360 Technology Co, said that the findings are based on data collected through its browser plug-in that helps users buy train tickets online.
Using the data-which includes the success rate of buying train tickets; the length of time to be spent traveling; and the percentage of people without seats among the total number of train passengers-the report published an index showing how difficult it is to get home by train ahead of the holiday.
With the index ranging from 1 to 100, Hainan scored 70, while Zhejiang scored 6, meaning those heading to that province face the least difficulty.
Zhang Lanpu, a data analyst for the report, said that the reason it is so difficult to get a train ticket to Hainan is mainly because of its location.
"Hainan is the southernmost island province. The number of train services available is small, and the travel times of train services to Hainan are all very long," Zhang said, adding that the report found that train services linking Hainan take an average of 33.8 hours.
Lin Hongyuan, a computer engineer in Shenzhen, Guangdong province, spent more than 3,000 yuan ($436) this week on a business-class plane ticket from Shenzhen to Haikou, capital of Hainan, on Jan 26, because he couldn't get a train ticket.
"Train tickets to Haikou via Guangzhou are much cheaper, but there are very few train services. I tried the browser plug-in designed to help purchase train tickets, but even that didn't help," Lin said.
The report also found that Jan 21 and Jan 24 are the two most difficult days to purchase train tickets for during the holiday season. Train tickets leaving Guangdong province, and Shanghai and Beijing municipalities heading to Hunan, Hubei and Hebei provinces are the most sought after.
The Spring Festival travel rush, the world's largest annual human migration, started on Jan 13 this year. Transport authorities forecast that 2.98 billion trips will be made during the 40-day travel peak.
Wang Shuiping, an official with the Ministry of Transport, told a news conference on Thursday that 78 percent of travel during the annual rush this year is for family reunion reasons, while trips for leisure and sightseeing account for 14 percent, higher than previous years.