One child or two? That is the question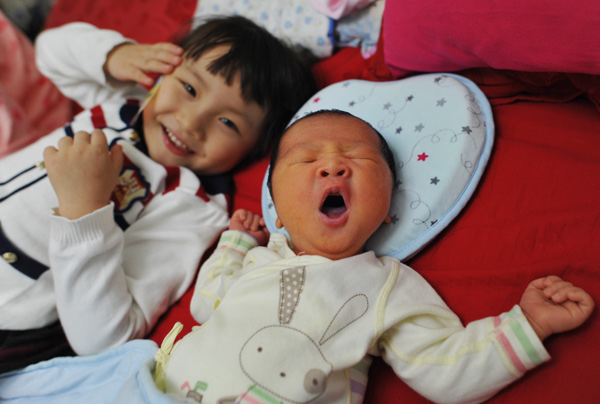 A girl plays with her newborn brother at a hospital in Nanjing, Jiangsu province,on Oct 24. 2014. [Photo/VCG]
BEIJING -- Though often labeled one of China's most draconian laws, China's one-child policy, introduced at the end of the 1970s and abandoned at the beginning of 2016, achieved what it set out to do -- rein in growth of the country's already vast population.
More than three decades on, as economic prosperity and nature have taken their course, the country faces a new demographic issue: it looks set to become old before it becomes rich.
Shi Hua, 37, was over the moon when his second daughter was born last month, but he is less than elated about how having a second child will effect his families' annual expenses. He estimates that this new addition to the family will cost around 20,000 yuan (2,900 U.S. dollars) every year.
"Money is not even our biggest concern. We are more worried about ensuring our kids are accepted into the best state schools," Shi said.
"Having two children means that neither will be lonely as they grow up, but even if the government allowed it, I wouldn't want more. Two is more than enough," Shi said.
Since Jan. 1, 2016, all married couples have been allowed to have two children, following an earlier easing of the policy in 2013 allowing couples to have a second child if either parent was an only child.
Despite these measures, and allowances for ethnic minorities and rural couples, China is facing a labor shortage. In 2015, China had just over 1 billion people of working age, but this is set to decline to 958 million in 2030 and 827 million in 2050, according to the Family Planning Association (FPA).
FPA vice president Wang Pei'an said that the government, concerned by the demographic shift, realized that the country could not afford to wait any longer to adjust its family planning policy.
"DO NOT DARE"

A son and a daughter form the Chinese character "
hao
," which means good. Although Zheng Juan, 34, who works and lives in Tianjin Municipality, would like to have a second child to achieve a balanced "hao," she has neither the desire nor the support to extend her family.
"My parents have taken care of my daughter since she was born in 2011, as my husband and I both work," she said. "They are too old to take care of another child and we can't afford a good nanny."
Like Shi, education is also a concern for Zheng. To make sure her family are in the catchment area for a good primary school, Zheng bought a 2.5 million yuan apartment last year near her office so that she can manage the school runs.
According to a survey by the All-China Women's Federation (ACWF), of 10,000 families with children under 15 years old in 10 provincial-level regions, 53.3 percent expressed no desire to have a second child.
The key factors for most parents when considering a second child are the quality of schools, baby products, living environment and access to medical facilities. Other major considerations included whether a later pregnancy would be safe for the mother, if the family could even afford another child, and child care prior to kindergarten.
Chen Xiaoxia, head of the child division of the ACWF, said that financial considerations alone mean a considerable number of families "do not dare or want" to have a second child.
"Families that have a second child have new demands. They need advice and guidance," Chen said.
SUPPORT NOW, BEYOND
In the first half of 2016, 8.31 million babies were born in China, up 6.9 percent year on year. Of these newborns, 44.6 percent were a second child, up 6.7 percent, according to the FPA.
From December 2015, about 30,000 women registered to have children in Beijing, yet the city only has about 4,900 maternal beds and is capable of serving only 25,000 women.
According to Peking Union Medical College Press 2015 health statistics yearbook, China only has 0.43 pediatricians for every 1,000 children.
The relaxation of the family planning policy means that China will need 89,000 more maternity beds, and 140,000 more obstetricians and midwives by 2020, according to the National Health and Family Planning Commission.
Different provinces have set the wheels in motion to support women who want to have a second child, with plans in the pipeline to offer them longer paid maternal leave.
In developed countries, where women have the opportunity of education level and salaries on par with, or near to, their male counterparts, young people's lifestyles -- and their interest in marrying or having children -- has radically shifted, resulting in many women putting off having children until their mid-30s, if at all.
The two-child policy is "not the end" of family planning reform, according to the "Report on China's Population and Labor," issued by the Chinese Academy of Social Sciences in late November 2016.
In order to avoid a "low birth rate trap," China will continue to observe its demographic data and will take measures to intervene should it need to further relax its family planning policy. The recent reform of the family planning policy, if anything, marked the birth of a new era.