Women have devices taken out to allow second child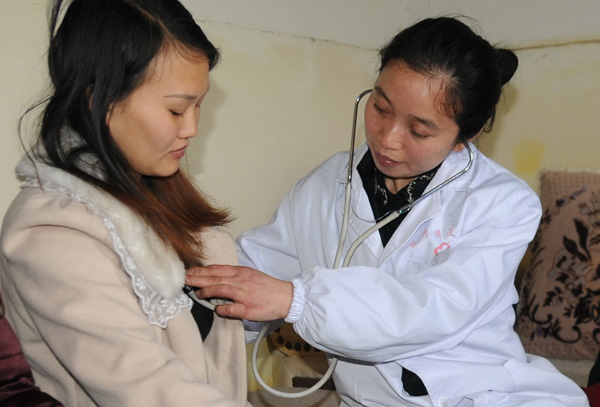 A woman who is pregnant with her second child receives a check-up in Neijiang, Sichuan province, in March. Li Jianming/ For chinadaily
About 3.5 million had birth control apparatus removed last year; more are expected to follow
Health workers in China are expected to help at least 3.5 million women remove intrauterine devices following the implementation of the universal two-child policy this year, according to China's top health authority.
Local health authorities will continue to provide such services for free during the 13th Five-Year Plan period (2016-20) to help couples have a second child, Song Li, deputy head of maternal and infant healthcare at the National Health and Family Planning Commission, said at a news conference on Monday.
About 3.5 million women had their intrauterine devices removed by local health authorities last year, and more are expected to do so this year, she said.
Eighteen million women who plan to have a second child need to have their intrauterine devices removed, and most will do so within the next three years, Song said.
China has been relaxing its family planning policy gradually in recent years, as it faces a declining fertility rate and an aging population.
The latest amendment to the policy, adopted at the beginning of the year, allows all couples in China to have two children. The National Health and Family Planning Commission said 90 million couples in China became eligible to have a second child due to the new policy, although half of them are already older than 40, meaning they are less likely to get pregnant.
He Wenjie, a gynecologist at Xuzhou Maternal and Child Healthcare Hospital in Xuzhou, Jiangsu province, said women are able to have their intrauterine devices removed for free at medical institutions designated by local health authorities, such as community health centers and township hospitals, as long as they had the device implanted by health authorities.
Ji Suwen, a doctor at the family planning department of Beijing Obstetrics and Gynecology Hospital, said many big hospitals charge patients for removing intrauterine devices.
"Almost all patients who come to our hospital for the procedure are those who cannot have the devices removed at grassroots hospitals for various reasons," she said.
However, Ji said more women have come to the hospital to have intrauterine devices implanted than those seeking their removal.
"Many women have given birth to a second child and now they are turning to long-term contraceptive measures," she said.