No child care means no second child for many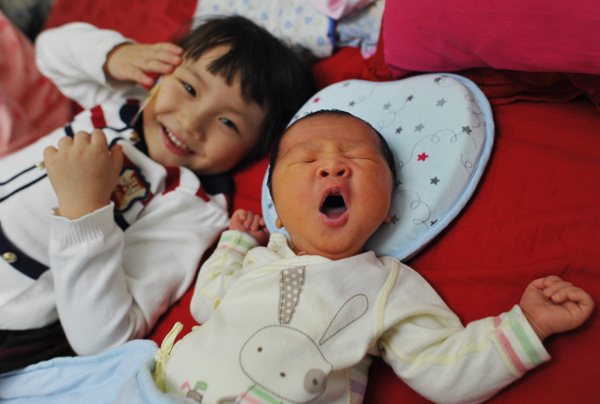 A girl plays with her newborn brother at a hospital in Nanjing, Jiangsu province,on Oct 24. 2014. [Photo/VCG]
Some women say it's too hard to find help; private investors reluctant to enter the market
Nearly a year after China stepped into the new second-child policy era, child care has become a prominent issue in family planning, with more than 60 percent of the mothers who don't want a second child saying it's just too hard to find help.
Wang Pei'an, deputy director of the National Health and Family Planning Commission, said at a Beijing forum on population on Saturday that the country will welcome more than 17.5 million newborns in 2016-a 5.7 percent increase over last year's 16.55 million. But the figure is consistent with official projections made when the new policy took effect on Jan 1. The projected number of newborns this year will be about the same as it was in 2000, Wang said.
The announcement marked the first time the government has given an official appraisal on the effectiveness of the second-child policy.
Wang also estimated that during the 13th Five-Year Plan (2016-20), China's total fertility rate will rise to 1.8, which means, on average, that a woman is expected to give birth to 1.8 children over her lifetime.
That's less than needed to sustain the nation's population level. To do that, women would have to give birth to no less than two children over a lifetime, on average-though the exact figure may be higher in developing countries due in part to higher mortality rates.
Luo Fuhe, vice-chairman of Chinese People's Political Consultative Conference, said China should shift its focus from pure population growth to productivity growth over the next five to 10 years, before the aging society hits the brake on economic development.
But research by the China Population and Development Research Center found that having no one to look after children has become a major hindrance for many women as they contemplate having a second child.
Most women in China enjoy less than a half-year of maternity leave, and nurseries generally accept children older than 3 years. That leaves many parents with little choice-either giving up one of their jobs (usually the mother's) or leaving the children with grandparents.
The research found that 80 percent of the families interviewed settled on the latter option, though they preferred a professional institution to do the job.
Meanwhile, one-third of mothers had to quit their jobs to look after their babies, as they had no one to help. Most of the mothers said they would immediately return to work if they could find child care help.
Wang Haidong, director of the planning commission's family division, said the problem is mainly the result of a lack of professional nurseries and kindergartens, as many publicly funded ones were closed due to declining numbers of newborns in recent years. Private investors showed little interest in getting into the business in part because of limited market access, Wang said.
Wang suggested that more policies should be made to support private entities entering the business of child care, so that more families will be willing and able to have a second child.