Rescue center helps wounded birds fly again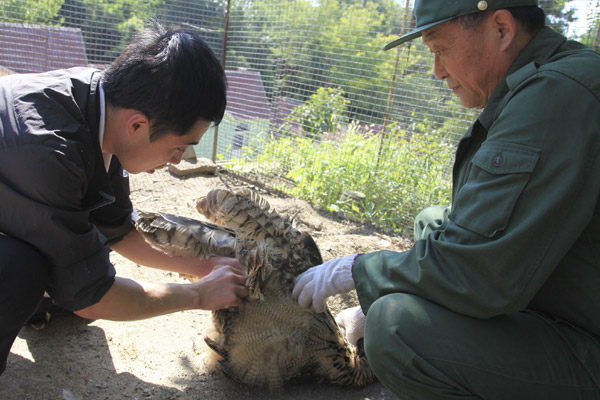 An injured Eurasian bittern, a wading bird related to the heron, receives treatment at Liaoning Snake Island Laotieshan National Nature Reserve. [Xiao Shuai/China Daily]
Every autumn, tens of millions of migrating birds fly south for the winter via Laotieshan Mountain on the southern tip of Liaodong Peninsula, Liaoning province, where they stop for a rest before flying across the Bohai Sea.
Some of them, however, are injured and need help.
According to Lin Xizhen, deputy director of Dalian Environmental Protection Bureau, local volunteers rescue more than 100 wounded predatory birds each year.
He said the government will allot 500,000 yuan ($72,600) for two clinics-equipped with X-ray machines, shadowless lamps and other professional equipment-to treat raptors such as the greater spotted eagle, white-tailed sea eagle and bearded vulture.
On Nov 8, a wounded golden eagle, which was rescued by bureau staff, was set free at Liaoning Snake Island Laotieshan National Nature Reserve in Dalian, where a raptor rescue center was established.
"This is the first one in China established by government institutions," Lin said.
Sun Kang, a professor at Dalian-based Liaoning Normal University, said they previously had not been able to assist badly wounded birds.
"We could only give them simple treatment," Sun said.
"Some NGOs and animal protection volunteers have set up raptor rescue centers in Beijing, Shenyang and other cities. But as the first one established by government institutions, the Dalian center will play a pilot role for the rescue work of other national nature reserves," she said.
Sun has been a volunteer in the effort to protect migrating birds since 2009, when she and several outdoor sports enthusiasts climbed Laotieshan Mountain and saw birds trapped by dozens of nets. They started to rip down the nets to save the birds.
Statistics from the Dalian Environmental Protection Bureau show that, through the help of volunteers and the support of local government, the number of nets has shrunk from thousands at that time to 412 last year.
Some villagers who made a living from catching migrating birds have joined the team.
"They live on the mountain. It is easier for them to find wounded birds. More important, they can be good examples for the villagers," Sun said.
She said the government of Lushunkou district has made great efforts to protect migrating birds.
In the past, restaurants offered bird dishes, and a kilogram of dumplings made with bird meat as much as for 1,000 yuan.
Yi Qingtao, Party chief of the Communist Party of China Lushunkou District Committee, said the government is encouraging residents to protect birds.
In addition to the severe crackdown on the hunting and eating of migrating birds, they have organized bird-watching events.
Yi said the government is determined to protect the ecological system of Laotieshan Mountain, an ideal bird-watching site famous among bird-lovers around the world.
As more residents become aware of their value, more birds will be saved, Yi said.