Hardships and tears behind China's booming food delivery service
Around 150 million Chinese have experienced ordering food on a delivery service app, however, they might not know about the lives of the men who deliver the meal to their homes. In this story, we take a peek at the daily life of a deliveryman, which is about competition, honor and earning a livelihood.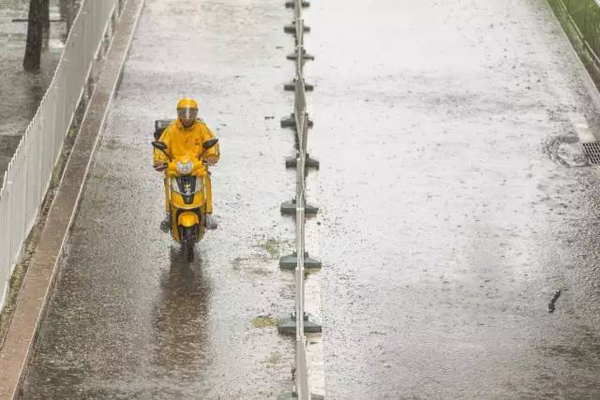 A courier delivers food on a rainy day. [Photo from the web]
A booming industry
Zhou Wu (not his real name) rolls up his sleeve to reveal a scar on his right arm, a reminder of an accident in which he hit the curb and was thrown off his scooter to avoid an electric tricycle coming right at him.
After the accident happened, the first thing that occurred to him wasn't if he was injured, but "whether or not the food in the box spilled out."
Zhou Wu has had three road accidents since 2015 when he became a food deliveryman in Beijing. He "dared not tell the company because they would not pay for the medical bill, but might even fine you."
The 22-year-old from Hebei province tried different blue-collar jobs before he became a deliveryman, which is the job he's done the longest and "is most profitable".
Zhou is one in the expanding force of deliverymen as the online food delivery service becomes increasingly popular in China's cities.
According to a recent report, around 150 million Chinese used online catering services as of June 2016. The number rose by 32 percent in six months and keeps growing.
"In the peak hour, the orders keep coming to you and you cannot refuse to deliver," said Zhou, who once delivered food to eight different places in one single hour.