Mannheim-Tongji EMBA program connects East and West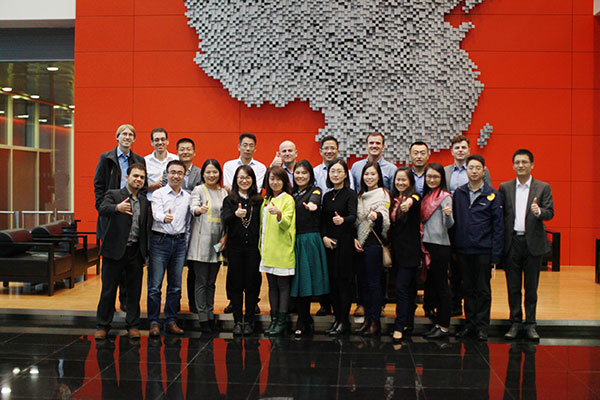 Participants of Mannheim-Tongji EMBA program visit Bosch Group Shanghai headquarters earlier this year. [Photo provided to china daily]
As the first ever international EMBA program in China to combine traditional business administration with Chinese and German characteristics, the Mannheim-Tongji dual degree EMBA program aims to provide students with a global perspective and creative ability in a dynamic environment. China Daily recently interviewed the director of the EMBA, Li Yibin, to learn more about the program.
Q: Some people use VUCA (volatility, uncertainty, complexity and ambiguity) to describe the age we live in. What do you think are the challenges facing EMBA education in the midst of the complexity and ambiguity of the economy?
A: Education in traditional business schools focuses on nurturing students' predictive thinking, but it's actually improper to make predictions about the future based on past data and experience.
Every feature of this VUCA era leads to uncertainty. The uncertainty manifested economically is that the direction of development is more and more ambiguous and difficult to predict. Every industry is caught up in cross-industry competition. And everything changes far too quickly.
Entrepreneurs in the industrial age can often rely on the paths they have walked before, so they know how to deal with uncertainties based on certainties. Just like the famous "hypothesis-oriented" approach put forward by McKinsey, we just sit in an armchair and figure it out: on the strengths of experience, we predict what kind of problems might arise in the future; and then we sit here and go on thinking about what should be our first step, what comes next... how can we build a model and make a structured framework of it, what kinds of tools we can use and in which ways can we execute the plan?
In the uncertain future, the traditional strategic planning tools and methods fail to cope with more complex and volatile situations. In the age of uncertainty, apart from nurturing traditional management skills and personal qualities, entrepreneurs need to develop innovative thinking and the capacity to act.
Q: In your view, what are the traits of creative thinkers?
A: I think they should have the following traits: willingness to accept that they have to take action before analysis, rather than just doing analysis first and then acting; the ability to replace a fixed mindset with a growing mindset; the ability to understand risk management, but also to bear and take advantage of uncertainties; strong internal control and responsibility for decisions and actions; confidence to confront the dilemma head-on and with persistence; and charm with a self-teasing sense of humor.
Q: Can you elaborate more on the Tongji's EMBA program, and how it develops students' creative thinking skills?
A: Based on the strengths of Tongji's long history with Germany, we launched the Mannheim-Tongji dual degree EMBA program with Mannheim Business School, Germany's premier business school. This is the first ever EMBA program of international cooperation in China to combine traditional business administration with Chinese and German characteristics. It is also the only dual degree EMBA program where courses are fully delivered in English in Shanghai. So, the unique program design guarantees that the courses, faculty and students and the diversity of the program are all very innovative.
Our faculty come from all over the world. All of them have overseas academic backgrounds and have experience in the industry. Our students also come from different countries and industries.
So the classroom has become a magnetic field where different cultures and ways of thinking meet. We have crossover integration.
The content of our courses meet market demands. It emphasizes the intercultural perspective and focuses on the hot topics in the Chinese and European markets. We also use classical cases in China and Europe to improve students' abilities to handle intercultural cases in reality.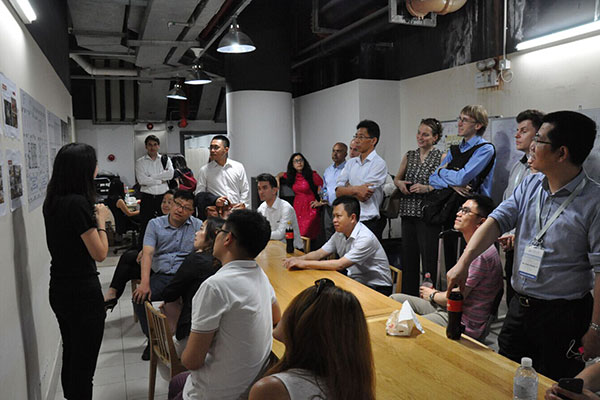 Participants of the program interact with management from Innospace. [Photo provided to china daily]
Q: Speaking of Germany, many people are interested in Germany's Industry 4.0. Will this theme be embodied in your program?
A: The whole process of Industry 4.0 is one in which automation and information technology constantly interact with each other. It is also a process in which we use software to redefine the world. Because of its consciousness of leadership and opportunity- seizing, and to ensure that Germany occupies a globally competitive position in terms of economy and technology, the German government has put the notion of Industry 4.0 first. Our EMBA program is the fruit of Sino-Germany cooperation, and it will closely follow Sino-German policies in terms of its direction.
Students in the program come from various fields, such as mechanical manufacturing, automation, information communication and software development. In this program, they can share their own experiences and challenges about Industry 4.0 and learn from each other.
Riding on the trend of Industry 4.0, the Operations Module in the program covers the composition of Industry 4.0. It focuses on the cooperation between Enterprise Resource Planning (ERP) and Manufacturing Execution System (MES). Students can visit the Sino-German Advanced Manufacturing Technology Center, built by Chinesisch-Deutsche Hochschule of Tongji University and Germany's Karlsruhe Institute of Technology.
The program also opens three-day-long free Bonus Module for graduates, which focuses on the revolution of Intelligence and Industry 4.0.
Q: We heard that many students in this program come from Germany or are with German corporations. Can we say that they are good examples through which we can learn about the differences between German and Chinese entrepreneurs and senior executives?
A: German students have international vision and experience. Most of them come from large multinational corporations, such as SAP, Siemens, Bosch and Volkswagen. They all have management experience in intercultural environments. Because of the geological and regional advantages of Europe, many students can speak several languages and have worked in three or more countries.
Meanwhile, German craftsmanship is reflected in their studies, in their devotion to case discussions, assignments and class participation, and their pursuit of perfection.
We can feel the passion and interest of German students and other foreign students for developing the Chinese market and finding business opportunities, which perhaps is the biggest driving force for them to take part in the program.