Smog spreads out as readings spike
Heavy smog continued to plague vast areas of China with alarmingly high air quality index readings on Monday, and inspectors have uncovered violations of restrictions that reduce emissions.
In 24 cities, mainly in North and Central China, air pollution on Sunday hit "hazardous" levels. Readings in eight of those cities - such as Shijiazhuang in Hebei province and Zhengzhou in Henan province - surpassed the upper limit of 500 on the air quality index, the Ministry of Environmental Protection said on Monday afternoon.
In Shijiazhuang on Monday, the concentration of PM2.5 exceeded 1,000 micrograms per cubic meter at 1 pm and by 6 pm hovered around 900 at some measuring stations, according to the National Environmental Monitoring Center website.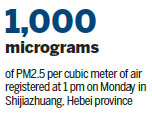 PM2.5 refers to the particulate matter with a diameter of 2.5 microns or less that can penetrate the lungs and is particularly harmful to human health.
Severe smog is forecast to persist and get worse in North, Central and East China and to reach a peak on Wednesday. On Monday, the pollution began to expand into some regions further to the south, such as Hunan province.
Poor visibility from the smog has disrupted air and ground traffic.
In Tianjin, expressways and over 100 toll gates were closed, and the airport suspended service from Sunday night to 11:30 am Monday - 181 flights were canceled and 59 delayed.
To cope with the smog, Beijing, Shijiazhuang, Tianjin and 21 other cities issued red alerts, the highest emergency response, by Monday. More than 50 cities in North, Central, East and South China had issued the second-highest level alert, orange, by Monday, the ministry said.
All these cities have placed stringent restrictions on industrial emissions and limited the use of vehicles. However, inspectors from the ministry and provinces encountered many violations over the weekend.
In Heze, Shandong province, the Runze Chemical Plant was still in production on Sunday despite the suspension of polluting activities mandated by the red alert.
By Monday, Beijing had found over 85,000 violations against private automobile restrictions, under which cars were allowed on the road on alternate days based on their license plate numbers.
zhengjinran@chinadaily.com.cn