On course for an extended run
The number of Chinese participating in marathons is rising rapidly, leading to more long-distance races being staged and causing headaches for event organizers. Tang Yue reports.
It's well-known that obtaining a license plate in China is so difficult that several large cities have introduced a lottery system to streamline the process. Less well-known is the fact that the "traffic" on the country's marathon courses is so congested that many organizers have copied their urban-planning peers and introduced their own lotteries for applicants.
This year, the organizers of the Beijing International Marathon, which introduced a lottery for competition berths in 2014, had more than 66,000 applications for 30,000 places in the event. Less than 20 percent of applicants for the lowest-ability group were successful.
To meet the growing demand from runners, the number of full marathons in China has skyrocketed from 22 in 2011 to more than 120 this year, according to statistics provided by the Chinese Athletic Association. Moreover, a growing number of Chinese are traveling overseas to compete; more than 600 participated in the New York City Marathon in November, and 600-plus turned up for the Tokyo Marathon in February.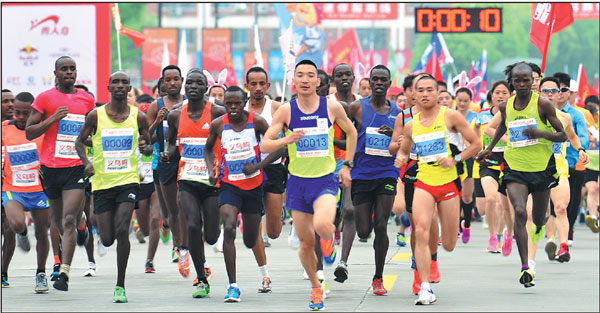 Marathon lovers participate in an international competition in Zhejiang province last year.Lyu Bin For China Daily
The rise in participantion is being seen as an indication that China, with its expanding middle class, is running toward a healthier lifestyle. However, although the number of long-distance races is not excessive in a country the size of China, the sport's rapid development has given rise to controversy. That's because some local governments want to promote their city by hosting an event, but they pay insufficient attention to race-related services, and in some cases they allow unlicensed agents to invite competitors from overseas, according to experts.
"The rapid rise in the number of marathons and runners is a natural result of the improvement in living standards. For example, Shenzhen alone hosts six marathons a year and people can take part in races in the city almost every weekend. In comparison, the number of full marathon races in the United States is about 1,000 a year," said Zhao Pu, an officer with the athletic association's marathon department, referring to the Guangdong province city which borders Hong Kong.
He predicted that the number of races will continue to rise next year, but the sport's development will be more "reasonable" in the coming years, resulting in the gradual elimination of a number of less professionally run races.