Bringing justice to the victims of Unit 731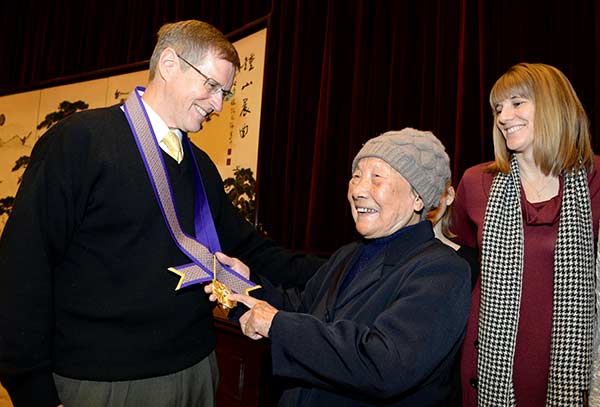 Stephen Brady, a family member of Richard Freeman Brady, a US doctor who risked his life to save locals from Japanese troops during the Nanjing Massacre, meets Xia Shuqin, a massacre survivor, in Nanjing on Monday. Six foreigners, including Richard Freeman Brady and John Rabe, a German businessman who also protected locals, were honored with the Zijin Grass International Commemorative Medal of Peace ahead of Nanjing Massacre Remembrance Day on Tuesday. CUI XIAO/CHINA DAILY

Editor's note: On Tuesday, the memorial day marking the Nanjing Massacre, which started in December 1937, China Daily looks at the work of Japanese lawyers, academics and journalists who are seeking redress for war crimes committed by their nation's army during the occupation of China.
'One hundred and one Chinese were used during the experiments, correct?"
"No, no, not that many ..."
That was part of a conversation that took place in 1981 between Shiro Kasahara, a respected microbiologist from the Kitasato University Hospital and Research Unit in Japan, and Fuyuko Nishisato, a Japanese journalist acting as a translator for a reporter from Independent Television News in the United Kingdom.
The "experiments" involved human vivisection and were conducted more than seven decades ago when Kasahara was a member of Unit 731, the Japanese Imperial Army's covert biological warfare research and development division. The unit was based at Pingfang on the outskirts of Harbin, Heilongjiang province, in Northeast China, which was part of a Japanese puppet state known as Manchukuo, in the area of Manchuria, between 1932 and 1945.
The number 101 was mentioned because it was the total number of subjects that appeared in several medical papers about epidemic hemorrhagic fever written by Kasahara and his colleagues in the 1940s. The disease, which is transmitted by ticks, was rampant among Japanese soldiers at the time, so they decided to use human guinea pigs in their attempts to find a remedy.
"In the late 1930s and early '40s, an estimated 3,000 people, mostly men who had resisted the Japanese, were captured by the Kempeitai, the Japanese army's version of the Gestapo. They were sent to Unit 731's sprawling compound in Pingfang, where they became human guinea pigs in the research and development of biological weapons. Many were subjected to vivisection," Nishisato said. "Reluctant to enter into any discussion about Manchuria, Kasahara was very defensive about the human experiments."
Fuyuko Nishisato, the researcher, has often been confronted with wartime atrocities and those who committed them. "In 1981, we saw the publication of The Devil's Gluttony by Japanese author Seiichi Morimura, a historical novel that exposed the crimes committed by Unit 731. The world was shocked and reacted by sending reporters to Japan. I was hired by a British television company to do research and coordination for their documentary film unit," she recalled. "That was the beginning of three-and-half decades of research into Japan's wartime crimes, during which I worked on a number of documentaries for major media outlets including the BBC, NBC and the History Channel."
That research led her to Pingfang, where many people perished, and other parts of Harbin, Heilongjiang province, where victims' families still live.
"Many families had no idea about the whereabouts of their loved ones until the 1990s, when crucial Kempeitai 'special transfer' files were disclosed by the provincial archives in Heilongjiang and Jilin-files that the defeated Japanese army had no time to destroy completely back in 1945," said Nishisato, whose book Behind Bayonets and Barbed Wire: The Secrets of Japanese Army Unit 731 will be published in English and Chinese in March.
"During a trip in 2003, I met a woman called Zhu Yufen whose father and uncle were arrested by the Kempeitai and disappeared before she was born. Photos of her uncle were later discovered attached to the files. Since not one photo of Zhu's father was left, she always carried her uncle's photo because people who knew them as young men told her that they looked very much alike," she said.
"Another woman I met, whose father was involved in the underground resistance and was later captured and killed in Pingfang, was very tense when she saw me and the other Japanese in our group. She cried as she told her story, and refused to have lunch with us."