A hundred voices to record Nanjing Massacre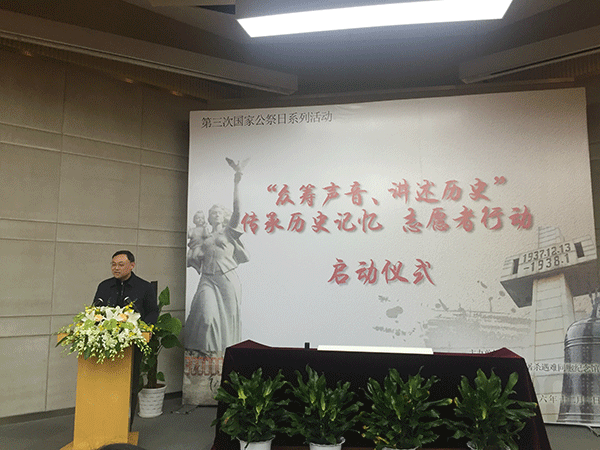 Launch ceremony of the event held on December 1, 2016. [Photo/China Daily]
More than 100 volunteers will record facts and stories about the 1937 Nanjing Massacre in their own voices to commemorate the history, according to the launch ceremony of the volunteer action in Nanjing on Thursday.
Readers can hear the voices by scanning a QR code printed on a picture book about the massacre, which will be published in April 2017 to commemorate the 80th anniversary of the event.
Elderly people that experienced the history, offspring of the survivors, kindergarten children, and students from Germany and South Korea, will all participate in recording the history.
Xia Yuan, a volunteer and granddaughter of Xia Shuqin, a survivor of the Nanjing Massacre, said she hopes her generation and offsprings can know about and memorize this period of history. Her grandma Xia Shuqin, who experienced the massacre when she was eight years old, said she kept trying to forget the experience and failed to do so during the past decades. "Of course, we should not forget about this period of history," said the survivor.
Although there are lots of images and text about the Nanjing Massacre, it is the first time that we are recording the history in a hundred of voices, said Xie Haixiang, deputy director of Nanjing Radio and TV station, a co-organizer of the event.
Voice, as a special medium, will play a key role in passing on the facts, stories, and memories to the next generation and the whole world, and make them cherish peace, said Zhang Jianjun, director of the organizer of the event.
More than 300,000 people were slaughtered by Japanese troops during the Nanjing Massacre from December 1937 to January 1938.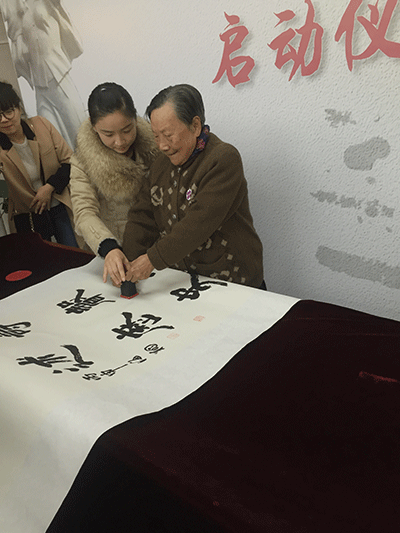 Xia Yuan (L) and Xia Shuqin (R) at the launch ceremony on December 1, 2016. [Photo/China Daily]