Hebei issues red pollution alert
Hebei province on Thursday issued this year's first red alert for a three-day bout of severe air pollution.
The pollution is forecast to last from Friday to Sunday in eight cities, according to a notice released by the province's Air Pollution Prevention and Control Office.
A red alert is the most serious level for air pollution in a four-tier warning system, followed by orange, yellow and blue. It is issued when the city's Air Quality Index is predicted to reach 500.
In response to the alert, cities will suspend some polluting operations to cut industrial pollution by at least 40 percent, and all construction activities must be suspended, according to the Hebei Environmental Protection Bureau.
Schools, especially kindergartens and primary schools, could suspend classes or give distance education during the period.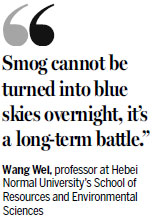 The province's eight big cities - Shijiazhuang, Baoding, Langfang, Xingtai, Hengshui, Handan, Dingzhou and Xinji - are often on the list of the 10 cities with the worst air quality in China. They are classified as Region One, which is often shrouded by heavy smog in winter.
Shijiazhuang, capital of Hebei, has suffered the most this year. It launched a campaign to fight pollution in the middle of last month, enforcing the most strict emission control measures.
All polluting companies in the city were shut and half of all vehicles on the roads were removed each day based on odd and even license plate numbers.
The campaign will last until the end of the year, during which time, the public may use buses free of charge.
As of Wednesday, eight out of 13 cities in the province had taken similar measures to cope with severe smog.
Hebei's adjacent city Beijing issued an orange alert on Thursday morning, forecasting that the city would also be hit by severe air pollution from Friday to Sunday, according to the Beijing Municipal Environmental Protection Bureau.
The bureau said air quality in the capital will improve when a cold front arrives on Sunday night.
Emergency measures to cope with air pollution will be taken in Beijing from Friday.
"Despite the measures, the air quality did not improve," said Liu Jinke, who lives in Shijiazhuang and rides a bicycle to work.
"Governments continue to make efforts to reduce emissions, but smog cannot be turned into blue skies overnight, it's a long-term battle," said Wang Wei, a professor at Hebei Normal University's School of Resources and Environmental Sciences in Shijiazhuang.