Financial aid to be provided to those who leave jobs for aged parents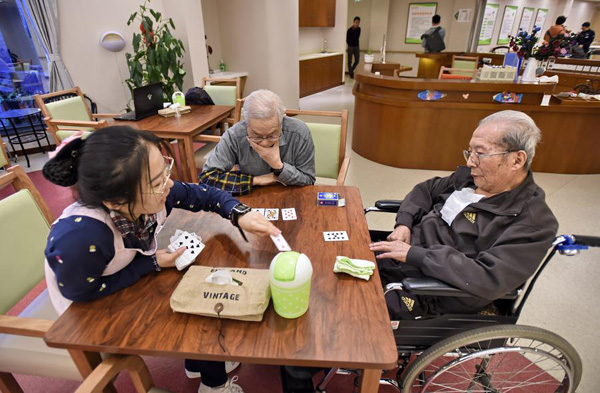 A worker plays cards with seniors at a nursing home in Beijing's Fengtai district on Nov 21, 2016. [Photo/Xinhua]
People who leave their jobs to take care of disabled aged parents or relatives will be provided living allowances by the Beijing government, according to the city's civil affairs bureau, the Beijing Morning Post reported Friday.
The government is mulling financial help for children or relatives who are poor and who drop their work to take care of the disabled seniors.
Authorities will complete a general survey of disabled seniors in the city, setting up a database by the end of this year, and also finalize the allowance measures.
Special policies will also be announced to provide seniors who lost their only child access to public nursing homes on priority basis. The authorities will also study policies that will help aged people live with children who migrate to other places easily.
A survey will also be carried out on aged people living in rural areas, and a mechanism is under discussion to give a helping hand to them.
The city government encourages healthy aged people to work as long as they can and urges them to help each other and participate in voluntary activities.