Rising campus express business divides students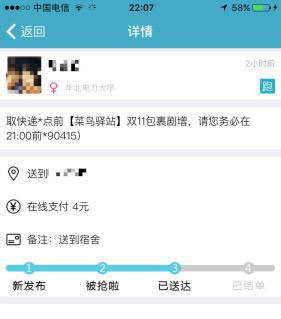 A screenshot shows a user offering four yuan ($0.58) to anyone who brings the parcel to the dormitory. [Photo from Sina Weibo]
Paying your mates to run errands for you might be a good investment for you, but is it good for your friends? That's the question that is dividing universities across the country.
With more students doing online shopping than ever before, the most time-consuming problem for them is going to the distribution center at the campus, sorting out their parcel among heaps of packages and then bringing it back to their room.
Some enterprising students have found a way to avoid this hassle all together.
"One day I came up with an idea when I was waiting in a long line to get my parcel. If someone could bring the parcel to the room for a small fee that would save students' time and also ease the delivery guy's burden," said Yan Yi, who graduated from Nanguang college of Communication University of China in East China's Nanjing city.
Yan began bringing his friends' parcels from the courier center to their rooms at their campus in the summer of 2012 after he had that idea.
Like Yan, students from Neusoft Institute Guangdong in South China's Foshan city also deliver parcels to their mates in the nearby university town.
One of them named Zhang Chao said: "While usually we receive 300 orders, these days the number has surged to 600 due to the Singles Day's rush."
There are now even mobile apps providing platforms for users to run errands.
"We have built collaborations with more than 10 universities, and the number of orders at certain university can reach as high as 400. The overall number of orders totals nearly 1,000, rising more than 100 percent," said Sun Wenye, founder of a related app.
According to a report on campus express business released by China Association For Campus Management, the number of parcels received by university students in Chinese mainland account for six percent of all packages in the mainland. It means that the express business at university campus can bring at least 70,000 job opportunities.
Yan Yi said he earns 2,000 yuan ($289.9) to 3,000 yuan each month by bringing parcels to the doorsteps of their owners.