Engineers to be among nation's next astronauts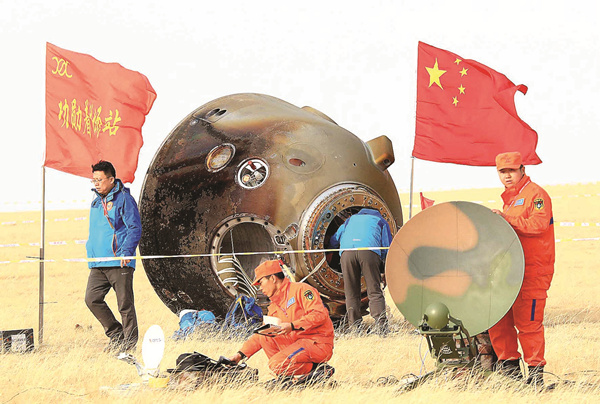 The re-entry capsule of Shenzhou XI spacecraft landed in Inner Mongolia on Friday, bringing home two astronauts from China's longest-ever manned space mission. LI GANG / XINHUA
China will start to recruit and train the third generation of its astronauts beginning next year and will turn engineers into space fliers, a senior space scientist said on Friday.
Huang Weifen, deputy research head of the Astronaut Center of China, revealed the plan at a news conference in Beijing about three hours after two Chinese astronauts returned to Earth from their monthlong space journey.
"We have finalized the plan," she said.
Huang added that to meet the requirements for a future space station, "we will expand the candidates' scope, by selecting not only pilots from the Chinese Air Force but also engineers in the space industry. Those engineers will be trained to become spaceflight technicians to take part in future missions".
The preparatory work is proceeding well, she said, adding that the success of the Shenzhou XI-Tiangong II mission has shown that China is now able to support astronauts' long-term stay in space.
Astronauts Jing Haipeng and Chen Dong returned to Earth at around 2 pm on Friday after completing China's longest-ever manned space mission.
They opened the re-entry capsule's hatch by themselves at the landing site in the Inner Mongolia autonomous region and were carried out of the capsule by medical workers.
The two were in good condition and were to be flown to Beijing on Friday evening together with their re-entry module, said a statement from the China Manned Space Agency.
Jing and Chen began the space trip aboard the Shen-zhou XI spacecraft, which departed from the Jiuquan Satellite Launch Center in Northwest China on Oct 17.
They entered Tiangong II, which was launched in mid-September from the same center, on Oct 19.
General Zhang Youxia, top leader of China's manned space program, said that the Shenzhou XI-Tiangong II mission was a "complete success".
The mission was China's sixth manned spaceflight and is expected to pave the way for a permanent space station, which the country plans to start building in 2018 and put into service in about 2022.
The space station will consist of three parts: a core module and two space labs to which it is attached, each weighing about 20 metric tons. It will operate in orbit for at least 10 years, according to the China Manned Space Agency.
Also at Friday's news conference, Wang Zhaoyao, the agency's director, said that the country will launch its first cargo spacecraft, Tianzhou 1, in the first half of next year to dock with Tiangong II.
The mission will test technologies of in-orbit fuel supply for the future space station, he said.
Currently, Tianzhou 1 is being assembled and tested. It will be lifted atop a Long March 7 rocket from the Wenchang Space Launch Center on the island province of Hainan, Wang said.