Iris recognition technology proves identities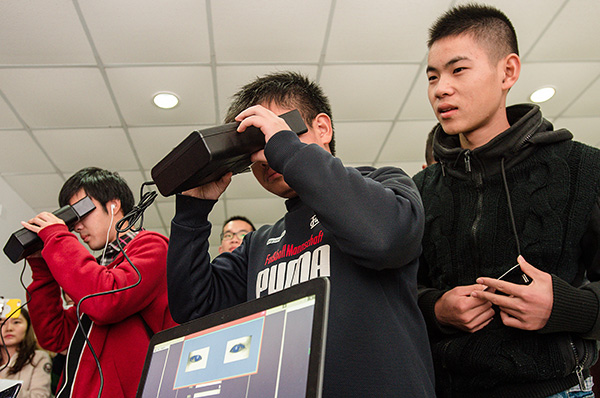 Students experience iris recognition developed by EyeSmart at Huazhong University of Science and Technology in Wuhan, Hubei province, earlier this month. CHINA DAILY
Iris recognition might play a role in the battle against child trafficking in China in the near future, as a pilot biometric iris recognition database is to be set up in Central China's Wuhan city, capital of Hubei province.
The program, proposed by iris recognition technology company EyeSmart, will establish 100 data collection spots in the city. Parents can take their children to the spots to have their iris scanned. If a child who is registered on the database goes missing and is found, an iris scan will be able to quickly determine his or her identity, much faster than DNA identification.
"New scanning technology does not require the user to stand up close to the machine. A simple glance at the machine, even from some distance, will suffice and it can be done in a second," said Wang Xiaopeng, founder of EyeSmart.
"The speed of iris recognition will greatly expedite the process of registration and identification of a lost child, as well as lowering the cost," Wang said.
The iris is a thin, circular structure behind the cornea of the eye, with the pupil in the center, the shape of which is fully developed and remains fixed 18 months after birth. According to Wang, researchers have identified the iris as the single most unique biometric feature of a human visible externally, more unique than fingerprints and DNA.
He said a pilot program involving iris scans of 1,000 children has been launched by EyeSmart. Parents of the children, none of who have gone missing, praised the program.
"It's really convenient to input the data," said one child's father, surnamed Duan. "I sincerely hope that the technology can be implemented nationwide."
India has initiated the Aadhaar Scheme to collect biometric data-including iris scans-from every citizen. According to reports, nearly 1 billion people had registered their fingerprints and iris scans by the beginning of this year in that country.
However, the reports also noted privacy concerns related to the use of iris scans in India, which is said to also be a concern in China.
"Biometric data, such as DNA or iris scans, are people's private information and by law, the police have no right to forcefully collect children's biometric data," said Chen Jianfeng, head of the Ministry of Public Security's Office of Combating Against Human Trafficking.
"Therefore, parents must take their children to register their data voluntarily, and I fear that due to concerns over privacy, the coverage rate is unlikely to be sufficient," Chen added.
"The system is based on voluntary participation, and we encrypt data before it is stored, so confidential data is safe," Wang said. "It requires the whole of society to battle against human trafficking, and we hope to contribute through the use of such technology."
Liang Shuang contributed to this story.