Shanghai school gives meals based on children's weight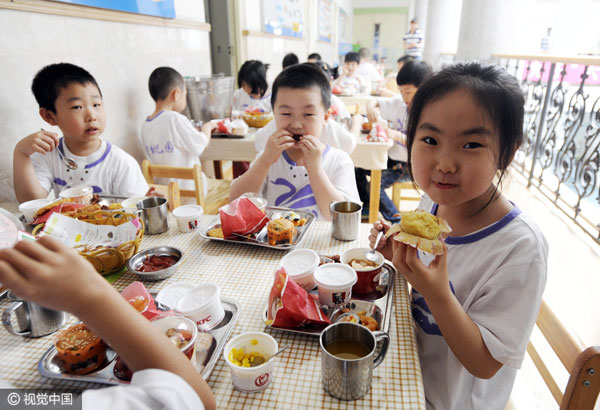 A file photo shows children eating at a kindergarten in Shenyang, Northeast China's Liaoning province. [Photo/VCG]
An afternoon snack menu for children in a kindergarten of Shanghai municipality, which offers vegetables to overweight children and milk and meat to underweight ones, has aroused a debate on its rationality, thepaper.cn reported.
Differentiated meals out of health considerations
The kindergarten, located in Jiading district of Shanghai, has more than 130 students. A menu of afternoon snacks between Nov 14 and 18 made by the kindergarten shows boiled Chinese cabbage, boiled Bok choy, boiled baby cabbage, boiled lettuce and steamed pumpkin for overweight children, and eggs, milk, meat balls and biscuits for underweight children.
The kindergarten also prepares special meals for sick children, which are free from allergenic foods like eggs, mushrooms and seafood.
Wang Yaqin, the head of the kindergarten, said that the differentiated meals are out of health considerations. All menus are suggested by dieticians and undergo nutritious analysis in the afternoon everyday to make sure the diet is healthy for children.
She also said overweight and underweight children are categorized according to national standards. Although they eat differently in the afternoon meals, they eat the same for breakfast and lunch, so it is unnecessary to worry if they are undernourished.
Most parents support differentiated meals
Wang said that teachers visited students' homes or conducted questionnaire surveys among parents about the idea of a differentiated extra meal and got their permission before implementing it.
A mother, surnamed Li, whose child is a student of the kindergarten said, "Extra meals are different from formal meals. It is good for my overweight child to eat more vegetables." Another parent, surnamed Chen, said, "It is impossible that our children are in malnutrition in the city life. We only worry about excess nutrition. Obesity brings too many problems."
Some parents express their concerns. A parent said his son is in the critical stage of physical development, "If he is overweight, he can exercise more. But malnutrition will affect his development."
Some other parents fear that differential treatment may cause psychological problems. A mother surnamed Zhang, said that kindergarten children are very sensitive and afraid of being treated differently. Overweight or underweight children see negative reactions in everyday life and different meals may repeatedly remind them of their differences.
Dietician: Choosing food according to weight is necessary
Dieticians support the kindergarten and believe it is necessary to choose food according to the weights of different children.
Gu Chuanling, a public health nutritionist and member of Chinese Nutrition Society, said the standard weight calculation formula for children of 1 year old and above shows a standard weight equals age multiplied by 2 plus 8. Surpassing 10 to 19 percent of the standard weight means the child is overweight and surpassing 20 percent is obesity.
She said that obese children do not choose food wisely and love sweets and snacks. They take in too many calories everyday and accumulate fat in their body. Parents trying to satisfy their children's appetite and having few exercise opportunities will lead to obesity.
Oat, whole-wheat bread, sugar-free yoghurt, fruit and nuts are the proper choices for afternoon snacks. They will supply the right amount of energy and nutrition to kindergarten children, she added.
Psychologist: Help children understand differences in a right way
Liu Yeping, associate professor at the Counseling Center of Shanghai Jiao Tong University, said teachers and parents need to help children understand meals in the right way.
The labels of "overweight" or "underweight" should not be given to children; otherwise children will feel discrimination and be psychologically harmed.
Teachers and parents should tell children that "we eat and do exercise to make our body stronger".