40,000 say separatists should be disqualified
Gathering supports interpretation on taking oath of office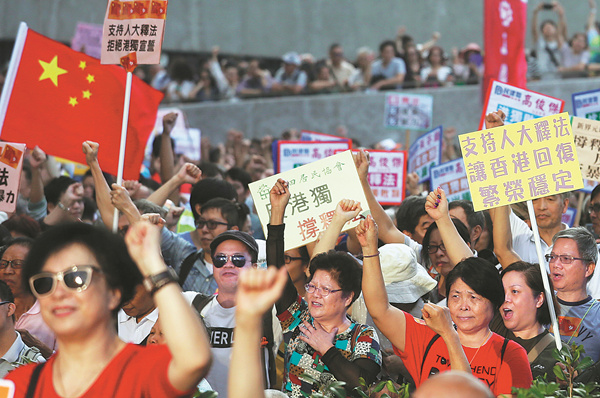 Tens of thousands of Hong Kong residents join a rally Sunday afternoon outside the Legislative Council complex to show support for the NPC Standing Committee's interpretation of the Basic Law. Roy Liu /China Daily
Hong Kong saw an outpouring of patriotism on Sunday in a mass demonstration calling for disqualifying the lawmakers-elect who have refused to pledge allegiance to the nation and the city's Basic Law.
Organizers said more than 40,000 people turned up from an alliance of 1,000 organizations across the Hong Kong Special Administrative Region.
Gathered outside the city's Legislative Council complex, they condemned in particular Sixtus Baggio Leung Chung-hang and Yau Wai-ching, two lawmakers-elect, for their separatist stand and bad manners and obscenities while taking the oath of office on Oct 12.
Demonstrators also supported the Standing Committee of the National People's Congress, China's top legislature, in its latest interpretation of the Hong Kong Basic Law and clarification of the oath-taking procedures for all senior officials, lawmakers and judges of the SAR.
Ng Chau-pei, one of the organizers of the gathering and also chairman of Hong Kong's largest labor group, the Hong Kong Federation of Trade Unions, said there were also about 10,000 people who couldn't fit in the limited space of the protest zone.
On Nov 7, the NPC Standing Committee delivered its interpretation of Article 104 of the Hong Kong Basic Law, requiring senior officials, legislators and judges to pledge allegiance to the country and the SAR, and to take their oath in an accurate, sincere and solemn manner, under penalty of their disqualification.
It was the fifth time that the Standing Committee made an interpretation of the Basic Law since Hong Kong's reunification with the motherland in 1997.
Hong Kong's High Court has yet to hand down a decision in the judicial review mounted by the SAR government. The government seeks to have the oaths taken by the pair declared invalid and their seats vacated.
Maggie Chan Man-ki, president of Small and Medium Law Firms Association of Hong Kong, praised the interpretation as an effort to prevent possible instability caused by the pro-independence activists.
Elizabeth Quat Pui-fan, a lawmaker from the city's largest political party, the Democratic Alliance for the Betterment and Progress of Hong Kong, said the interpretation also protects the normal operation of Hong Kong's business environment.
Zhang Xiaoming, director of the Liaison Office of the Central People's Government in Hong Kong, made a speech on Saturday saying that, in words and in deeds, the separatist advocates acted seriously counter to the "One Country, Two Systems" principle, and challenged national sovereignty.
Therefore, Zhang added, it has become necessary for the NPC to use its legitimate power in its latest Basic Law interpretation.
Zhang said the NPC empowers Hong Kong courts with rights to interpret the Basic Law, but that does not supersede nor restrict the NPC Standing Committee's authority to interpret the Basic Law, especially when the issue of sovereignty is at stake.
Contact the writer at stushadow@chinadailyhk.com