Tibet less remote as world's highest road tunnel opens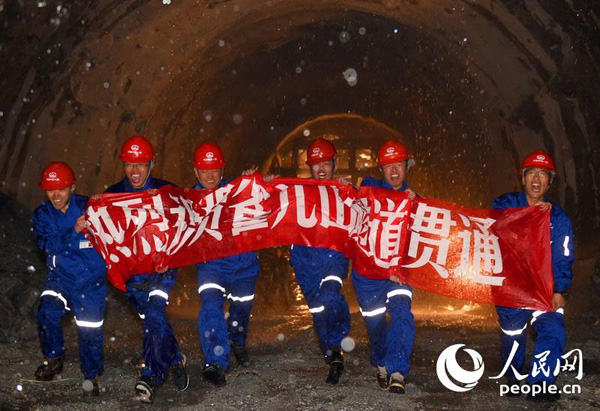 Builders on Thursday finished work on the world's highest road tunnel on the Sichuan-Tibet highway.The tunnel passes through the main peak of Chola Mountain which is 6,168 m above sea level, shortening the time from Chengdu, capital of Sichuan province, to Nagqu in Tibet by two hours, and avoiding the most dangerous section on the highway.[Photo: people.cn]
Builders on Thursday finished work on the world's highest road tunnel on the Sichuan-Tibet highway.
The tunnel passes through the main peak of Chola Mountain which is 6,168 m above sea level, shortening the time from Chengdu, capital of Sichuan province, to Nagqu in Tibet by two hours, and avoiding the most dangerous section on the highway.
The tunnel, with two lanes in each direction, has been under construction since 2012. It will open to traffic in 2017.
The current 40-km precipitous mountain highway in the Tibetan Autonomous Prefecture of Garze takes over two hours to traverse, with dangers from avalanches and rockfalls not to mention the extreme cold and low oxygen level.
Built at a cost of 1.15 billion yuan ($170 million), the 7-km tunnel only takes ten minutes to go through.
The highway will be able to accommodate 4,000 to 5,000 vehicles a day, as compared with around 1,500 before.
"It has been the most difficult tunnel that China Railway ever built," said Yao Zhijun, chief engineer of the project.
Built in 1951, Sichuan-Tibet Highway was China's first highway in Tibet. There are now two more major highways -- the Qinghai-Tibet highway and Xinjiang-Tibet highway.