Smog spell haunts one tenth of Chinese soil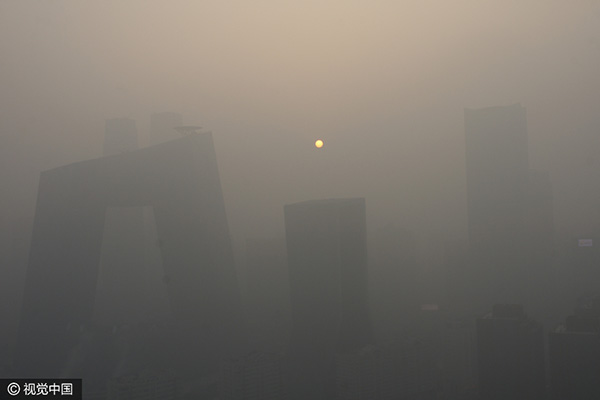 The China Central Television (CCTV) headquarters (left) is obscured by severe smog in Beijing on Nov 4, 2016. Beijing issued an orange alert for smog on Thursday afternoon, with visibility in some areas dropping to below 100 meters on Friday. [Photo/VCG]
BEIJING - A spell of heavy smog, which has enveloped northeastern and northern parts of China since Wednesday, has affected more than one tenth of China's land territory, the Ministry of Environmental Protection (MEP) said Saturday.
In a statement released by the MEP late on Saturday, the ministry said some 630,000 square kilometers of land in northeastern China and 380,000 square kilometers of land in northern China have been under the influence of the latest smog spell.
It said "adverse meteorological conditions" were to blame.
Seven provinces and municipalities, including Beijing and Tianjin, saw their air pollution index hike, with Air Quality Index (AQI) readings hitting 500 in 11 cities in northeastern China over the Nov. 3-5 period.
In northern China, average density of PM2.5 - airborne particles smaller than 2.5 microns in diameter - peaked in multiple cities on Friday, but air pollution ebbed on Saturday, the MEP said.
The ministry said it had already sent 12 inspection teams to the Tianjin municipality and the provinces of Hebei, Heilongjiang, Jilin, Liaoning and Shandong for emergency inspections.
Problems found by the inspections teams so far included weak emergency responses and inadequate countermeasures against heavy air pollution, suspected excessive discharge by 39 enterprises, and large-scale straw burning, it said.