China's lingering smog triggers production halt, flight cancellations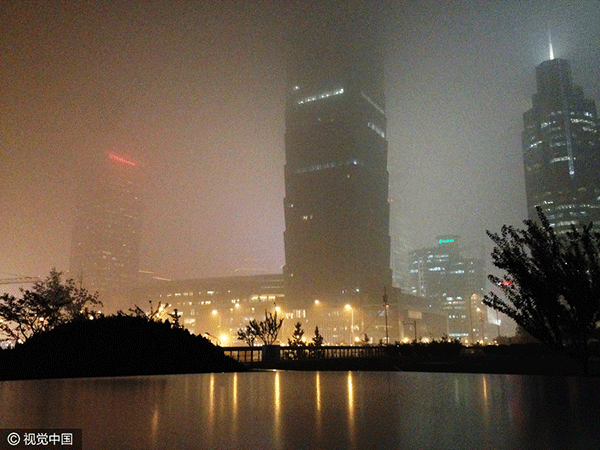 Heavy smog envelops Beijing on Nov 4, 2016. [Photo/VCG]
BEIJING - The city government of Tangshan in north China's Hebei Province has ordered local steel-rolling, casting, cement, glass and coke factories to halt production immediately in an emergency response to the country's lingering air pollution.
All coal-fired boilers except those for heating must be turned off, while production and transportation in all surface mines will be stopped, said an official statement released Saturday.
Construction sites and concrete mixing plants across the city were also ordered to stop work.
The decisions were made on Saturday as China renewed its orange alert for air pollution that has lasted for days.
Moderate to heavy smog will remain in the Beijing-Tianjin-Hebei region, as well as some areas in Henan, Shanxi, Shaanxi, Jilin, Heilongjiang and Liaoning provinces, with visibility less than 200 meters, according to the National Meteorological Center (NMC).
In Liaoning, nine of the province's 14 cities have reported severe air pollution, with the density of PM 2.5, particulate matter that causes hazardous smog, standing at 669 micrograms per cubic meter in Shenyang, the provincial capital, from 7 am to 8 am.
Sources with the province's transport bureau said that several highways had been closed due to heavy smog.
At the Tianjin airport, where visibility was reduced to 100 meters on Saturday morning, 80 flights were adjusted. By noon, 45 flights had been canceled.
The poor visibility also caused widespread flight delays and cancellations at Beijing Capital International Airport.
China has a four-tier color-coded system for severe weather, with red being the most serious, followed by orange, yellow and blue.
After experiencing frequent bouts of smog, the Chinese public have become increasingly sensitive to the health hazard. To address public concerns, the government aims to cut the density of inhalable particulate matter by at least 10 percent in major cities by 2017.