Protecting privacy or limiting choice? Female-only lanes at airports spur debate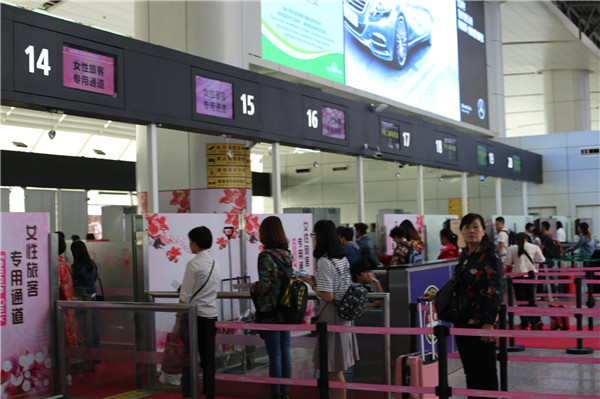 Female passengers wait in lanes at the female-only checkpoints at Guangzhou Baiyun International Airport, Guangdong province, Oct 31, 2016. [Photo/VCG]
Airport authority thought setting up female-only checkpoints was a good way to promote efficiency and enhance privacy of female passengers, but some internet users and experts view it differently.
A manager at Guangzhou Baiyun International Airport in South China's Guangdong province, which adopted the practice on Sept 19, explained the reasons to chinanews.com.
On the one hand, it safeguards privacy and avoids embarrassing female travelers when their luggage items are being checked by a male staff.
On the other hand, it's time-saving for all passengers as body check of female travelers are carried out by female staff, which means male staff members have to wait on the other side to give the females privacy and that in turn slows down the process.
Plus, articles carried by female travelers are less diversified than their male counterparts or they take more cosmetics. With clarified separate lane, the security process can be speeded up.
The view is echoed by other airports that have implemented the same practice.
According to the head of security check at Shenzhen Bao'an International Airport, which decided to separate male and female passengers in different lanes in March this year, 6,000 passengers on average checked in through the "female-only" and "non-luggage" lanes in one day, with efficiency increasing by 25% compared to the regular lanes.
While some internet users supported the move, others expressed concern that it may lead to bias against those females who may use regular lanes instead of female-only one.
Some experts dubbed it irrelevant in view of the rising social status of women, claiming that airports were placing more importance on efficiency than equality.
Some even called it unnecessary. "If there is a lane 'only for women', it may make those female passengers who chose other lanes feel awkward, which means their choices would be limited in the name of privacy," said Wang Xiying, a professor on social development and public policy at Beijing Normal University, in an interview with chinanews.com.
Since this year, many airports in various cities, including Beijing, Shenzhen, Wuhan, Chongqing, Guangzhou and Kunming, have rolled out the "female-only" lanes. Checkpoints especially for male passengers were also announced at Guangzhou Baiyun International Airport recently.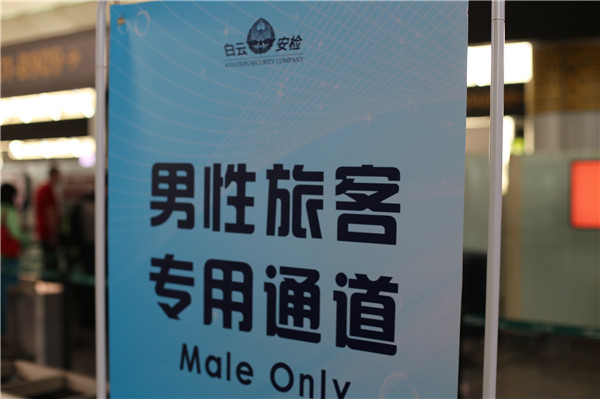 A sign indicates the male-only lane at Guangzhou Baiyun International Airport in Guangdong province on Oct 31, 2016. [Photo/VCG]