Protecting ties crucial, forum told
The mainland's support for cooperation will continue, says top political adviser
Top political adviser Yu Zhengsheng called on both sides of the Taiwan Straits on Wednesday to protect and improve the peaceful development of cross-Straits relations.
During a forum in Beijing on improving cross-Straits relations, Yu said he hoped the event, which began on Wednesday, could rebuild the bridge connecting the two sides, despite a changing political and economic situation.
The mainland will continue to support cooperation across the Taiwan Straits, said Yu, chairman of the National Committee of the Chinese People's Political Consultative Conference.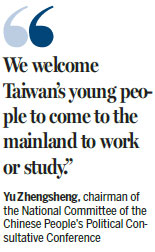 "Preferential policies for Taiwan businesses will remain unchanged," he said. "And we welcome Taiwan's young people to come to the mainland to work or study."
The mutual acknowledgment of the 1992 Consensus, which commits to the one-China policy, is the foundation of cross-Straits economic cooperation, Yu added.
Hung Hsiu-chu, chairwoman of Taiwan's Kuomintang party, also participated in the forum's group talks on economic cooperation and exchanges among young people from both sides. Her five-day visit to the mainland began on Sunday.
Steve Chan, vice-chairman of the KMT, noted during the forum's opening ceremony that, since the Democratic Progressive Party took the island's leadership in May, cross-Straits relations have entered a cold period and many exchanges have been suspended.
"The forum provides a precious opportunity for the both sides to communicate," Chan said.
Under the current situation, cooperation across the Straits has challenges as well as opportunities, said Zhang Zhijun, head of the Taiwan Affairs Office of the State Council, during the forum's opening ceremony.
"I hope participants from both sides will work out a new way for communication in the future," Zhang said.
The forum, jointly hosted by nongovernmental organizations from the mainland and Taiwan, has played an important role and generated fruitful results since it was established a decade ago, Zhang added.
About 200 delegates, who came from both sides of the Straits, took part in the forum to discuss politics, economy, culture, society and youth.
Lin Shoushan, public representative from the Taiwan city of Kaohsiung, said: "I am hoping we can find a way to break the cold period. The forum is certainly an opportunity. Talks among people from both sides are essential for future relations."