Chinese commercial vessel joins search for missing Chinese sailor Guo Chuan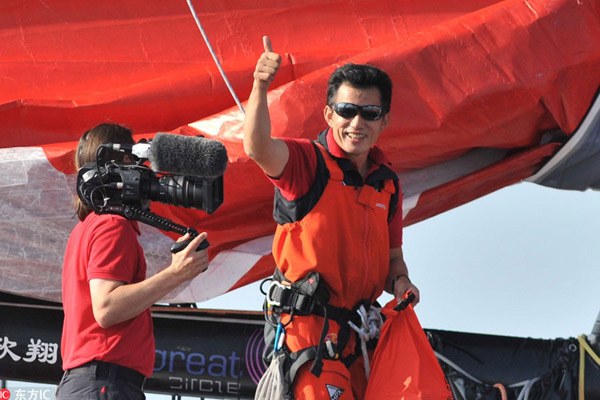 Guo Chuan returns to Qingdao from a 15-day voyage on Sept 27, 2015. [Photo/IC]
BEIJING -- A Chinese commercial vessel joined the search for the Chinese sailor Guo Chuan who has been missing for nearly five days during a solo non-stop trans-Pacific adventure.
The ship, named "Ruian City" from China COSCO Shipping Group, was on its routine route between Hawaii and Japan when it received messages for help on Saturday.
"I received calls both from Guo Chuan's team and the China Maritime Rescue Coordination Center, asking for our assistance in searching for Guo Chuan," said Ruian City captain Ding Jianwu.
At the request, five more lookout positions were added on the ship while the ship already scoured several spots where the 51-year-old mariner could possibly drift to. Guo was suspected of falling overboard on Oct. 25 Beijing time 900 kilometers off Hawaii and his team said he might wear life jacket then.
"We are using every possible tools, the radar, binocle and our naked eyes in a bid to find Guo. We will spare no effort in the search of the captain," said Ding. "I hope there will be a miracle and pray for Captain Guo."
Guo's support team and his family were desperate on looking for other ways to keep the search going after the U.S. Coast Guard suspended their effort on Thursday. The USCG located Guo's trimaran and then sent a boat and crew aboard the vessel but found no trace of Guo except his life jacket.
The team said a travel company in Hawaii has offered to provide five to 10 helicopters to search the missing sailor, but they need larger ships with helipads.
"These helicopters can fly 500 kilometers without stopping but the site of the accident is 900 kilometers off Hawaii. We need large ships which have helicopter platforms and equipment to refuel the choppers."
Before the accident, Guo was attempting to sail from San Francisco to Shanghai in 20 days or less for a new solo trans-Pacific world record.
Guo already had a world record to his name for a 138-day solo non-stop circumnavigation in 2013.