Captive panda cubs to be released into wild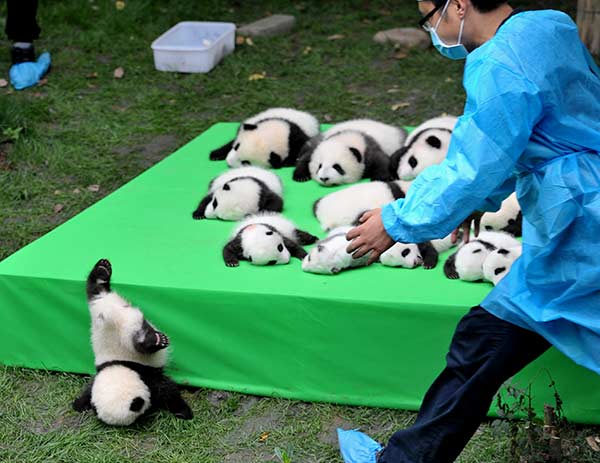 A staff worker runs to the rescue of a panda cub falling off a platform at the Chengdu Research Base of Giant Panda Breeding in September. Twenty-three cubs born this year met the public. [Photo by Zhang Lei/China Daily]
Two female captive panda cubs, aged 2 and 3, who have been trained to survive in the wild, will be released into the Liziping Nature Reserve in Shimian county, Sichuan province, on Thursday.
The release of the panda cubs was confirmed by Zhang Hemin, chief of the China Conservation and Research Center for the Giant Panda, during the International Conference on Giant Panda Conservation.
Sponsored by Zhang's research center and the State Forestry Administration, the two-day event, which began on Wednesday, drew panda breeders and researchers from across the globe.
It is the sixth time Zhang's center has released captive pandas into the wild, but it is the first time two pandas will be released together.
The breeding of captive pandas is aimed at studying the endangered species before releasing them into the wild to increase the wild panda population, Zhang said.
It used to be difficult for captive pandas to become aroused and mate, and for their cubs to survive. With researchers at the center having found ways to resolve such issues, it has become home to 234 captive pandas, accounting for nearly 60 percent of the world's total captive panda population.
The center was founded in 1980 in line with an agreement between the World Wide Fund for Nature and the Chinese government to breed captive pandas.
China's fourth panda census, the results of which were released last year, showed that there were 375 captive pandas worldwide as of the end of 2013.
There are now 422 captive pandas worldwide, according to Chen Fengxue, deputy director of the State Forestry Administration.
The rise in the number of captive pandas has contributed to international cooperation in captive panda breeding, with 56 captive pandas from China having been loaned to 18 zoos in 13 countries.
Pandas live in six mountain ranges covering about 23,000 square kilometers within the provinces of Sichuan, Shaanxi and Gansu, but with most valleys inhabited by humans, their actual habitat is about 20 percent of that area, said Zhang Zhihe, chief of the Chengdu Research Base of Giant Panda Breeding.