China, Uruguay agree to begin studying FTA
Presidents Xi and Vazquez also decide they will upgrade relations to a strategic partnership
China and Uruguay have agreed to hold consultations on starting joint feasibility studies of a bilateral free trade agreement, diplomats confirmed.
In a joint statement released after the meeting between President Xi Jinping and his visiting Uruguayan counterpart, Tabare Vazquez, the two countries pledged commitment to "pushing forward free trade partnership building".
Additionally, the two leaders decided to upgrade the bilateral ties to a strategic partnership.
Exports of agricultural and livestock products are an economic pillar of the country, which is south of Brazil.
China, which has been Uruguay's top trade partner in recent years, is its largest buyer of beef, soybeans and wool.
During the talks, Xi said both countries should optimize two-way trade and explore the services trade to boost trade growth.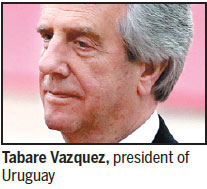 Vazquez said his country welcomed expanded investment by Chinese enterprises in Uruguay's infrastructure and is also willing to embark on discussions about an FTA.
Zhu Qingqiao, director-general of the Foreign Ministry's Department of Latin American and Caribbean Affairs, said the upgraded ties and consensus on studying an FTA were the political and economic highlights of Tuesday's talks.
"The two countries are highly complementary to each other on the economic front, and both countries agreed to embark on consultations at an early date for initiating negotiations on a bilateral free trade agreement," Zhu said.
Vazquez has been making a state visit to China from Oct 12 until Thursday.
The two leaders witnessed the signing of more than a dozen documents on outcomes in areas including visa facilitation, industry, agriculture, customs, defense, culture and sports.
Tang Jun, deputy head of the Institute of Latin American Studies at Zhejiang International Studies University, said an FTA "would help diversify two-way trade, lower the trade threshold and particularly facilitate Uruguay's exports to China".
An FTA also would help boost investments in Uruguay by Chinese, Tang said.
The upgrade of the bilateral ties is "a natural outcome", since the two countries' cooperation has great diversity, and the evolving ties can also be seen as part of the developing China-Latin America relationship, Tang added.
Chinese Ambassador to Uruguay Dong Xiaojun said Beijing is also focusing on cooperation in such areas as production capacity, new energy and infrastructure.
"China will continue to encourage powerful and qualified Chinese enterprises to invest in Uruguay," Dong said before Vazquez's visit.
"The two countries are highly complementary to each other on the economic and trade fronts."
zhangyunbi@chinadaily.com.cn