University installs system to make sure students run
A university in Guangdong province requires first - and second-year students to run twice a week, and it recently installed electronic devices to check.
Students at Dongguan University of Technology must scan a card at a special post on one side of a running track, then input a personal student ID number and take a mug shot to sign in. They must scan the card again at a post on the opposite side of the loop to record their time.
The surveillance system, installed for trial at the university's City College, is designed to enforce running quotas - 1 km for males and 800 meters for females twice a week.
The students are also required to run at least 24 times before the winter vacation, meaning they need to run regularly, instead of meeting the distance quota with a handful of longer runs.
"This system doesn't require the students to run very fast or too frequently. If a student doesn't run regularly but completes all the mileage in one go, the score will be invalid," said Xing Honglin, director for physical education at the university. Walking instead of running will also invalidate the exercise.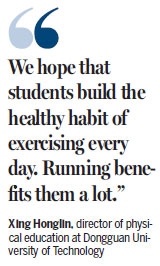 The rule is meant to encourage students to love sports, build up their bodies and improve physical wellness, he said.
In recent years, his department has observed a lack of fitness among younger students. Some get feel pain when they start running and some breathe heavily after minimal sports participation.
Running is included in regular physical education sessions, but some students evade the full requirement, Xing said.
"According to the national PE testing standard, male and female students are tested for 1-kilometer and 800-meter running. Considering the need to strengthen their cardiopulmonary functions, we requested the system last year," he said.
To encourage running, the department is considering announcing the top runners every month and handing out awards.
"We hope that students build the healthy habit of exercising every day," Xing said. "Running benefits them a lot after a whole day of classes. Many people want to lose weight. Actually running is the best way."
Li Jingzhuo, a student studying investment and wealth management at the university, said: "I like running, anyway. This mighty running device does not affect me. This program is fun, though."
Guo Junjie, who majors in marketing, said: "One kilometer twice a week is not a big deal. But I am exhausted after ball games," he said, referring to basketball and soccer. "Not much energy left for running."
The average fitness level of primary and secondary school students in China had improved slightly after years of decline, but that of college students continues to worsen, according to the national Annual Report on Development of Youth Sports.
The report was jointly released by the Youth Development Department of the General Administration of Sport of China and Beijing Sport University in August last year.
Without mandatory PE classes, as required in primary and secondary schools, Chinese college students take part in sports much less than their peers worldwide, partly because of unhealthy lifestyles and the lack of an athletic culture at universities, according to Gao Feng, vice-principal of Beijing Sport University.
But the tracking system has its critics. Bi Yaxu, a teacher at Guangzhou Sport University, described the device as constraining and unnecessary, although he acknowledged that encouraging students to run is a good idea.
"Students should be taught the fun of running. Some students don't like it. If they are forced to run, they may rebel against it," he said.
Huang Mengting contributed to this story.
(China Daily 10/17/2016 page7)