Mainland's Taiwan Affair Office strongly condemns July bus fire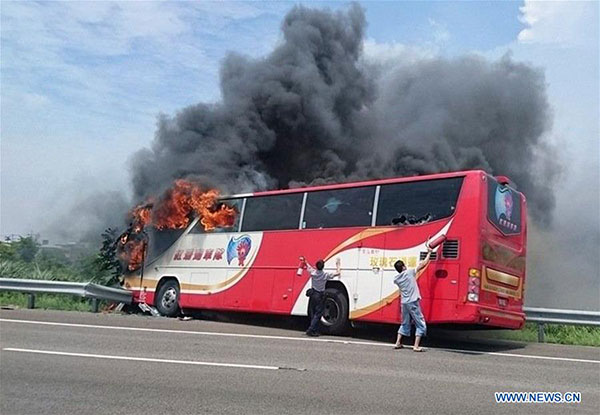 Photo taken on July 19, 2016 shows the accident site of a coach fire in Taipei, China's Taiwan. A tourist coach caught fire on a highway near Taoyuan Airport on Tuesday, killing 26 people on board, including 24 mainland tourists from northeast China's Liaoning Province. [Photo: Xinhua]
Chinese mainland's Taiwan Affair Office has strongly condemned the July tour bus fire near the Taoyuan Airport in Taipei, which killed 24 people from northeast China's Liaoning Province, after the Taiwan authorities announced the results of their investigation into case.
Investigators with the Taoyuan District Prosecutors Office are accusing the driver of drunk driving, deliberately dousing passengers with gasoline and setting the fire.
They also said the driver intended to burn his passengers to death.
But the prosecutors say they won't file a prosecution against the driver as he had also died in the incident.
Everyone on board was killed when it crashed into a highway barrier and caught fire near Taoyuan Airport on July 19th.
The victims included 23 tourists and a tour guide from the mainland, a local driver and a local tour guide.
The disaster was the deadliest single incident involving mainland tourists since Taiwan began admitting them to the island in 2008.
During the probe, investigators found traces of gasoline in the driver's compartment and the luggage hold.
A safety exit was also found to have been locked, trapping all those on board.