Visitors learn about Guangxi culture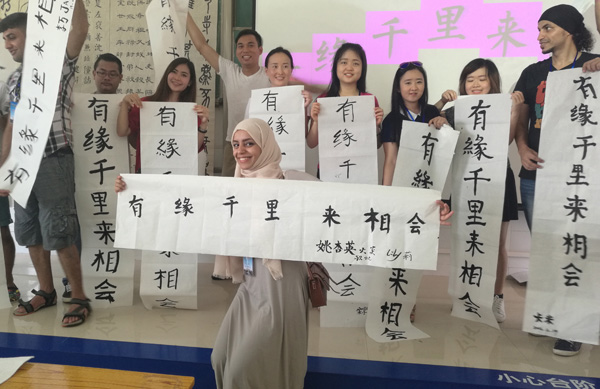 Students from Southeast Asian countries show their calligraphy works at Qinzhou University in the Guangxi Zhuang autonomous region in June. [Photo by HUO YAN/CHINA DAILY]
Some 70 international students from 14 countries who are pursuing their studies in the Guangxi Zhuang autonomous region acquainted themselves with local culture by taking a two-day sightseeing trip hosted by the China Scholarship Council in June in Qinzhou, Guangxi.
Organized by Guangxi University, the tour aimed to providing better understanding of China's regional development and culture diversity for foreign students who obtain the Chinese Government Scholarship granted by the council.
Qu Jiaohua, the organizer from Guangxi University, said, "We simply hope that the students can make friends with each other and enjoy their stay in Guangxi despite their nationalities."
Located in the south of Beibu Gulf, Qinzhou serves as a hub to promote China-ASEAN cooperation and is famous for the production of Nixing pottery, one of the four great pottery styles in China.
Po Laobangher, a student at Guangxi Normal University from Laos, was impressed by the visit to China-Malaysia Qinzhou Industrial Park on June 18.
"I am really impressed by the achievements that China has made to cooperate with Southeast Asian countries and I wish there could be a platform like this to boost investment and trade between Laos and China," Laobangher said.
The students on tour later experienced the joy of making Nixing pottery themselves at Qinzhou University, where they merrily joined local student association activities such as calligraphy, paper-cutting and tai chi.
Alya, a 26-year-old student from Yemen, appreciated her adventures in China.
"If I wasn't in China I wouldn't have any chance to be exposed to such a charming ancient culture and perhaps I would be married at my age," she said.
In recent years, more international students, especially those from Southeast Asian countries, prefer to apply to universities in Guangxi.
"I attribute this to the geographical proximity as well as the increasing fellowship support," said Chen Bilan, assistant dean of the International Education Institute of Guangxi University.
According to Chen, 80 percent of the 1,710 foreign students at the institute are from ASEAN countries. Each year, 46 students can be granted this honor.