Two Chinese universities among world's top 100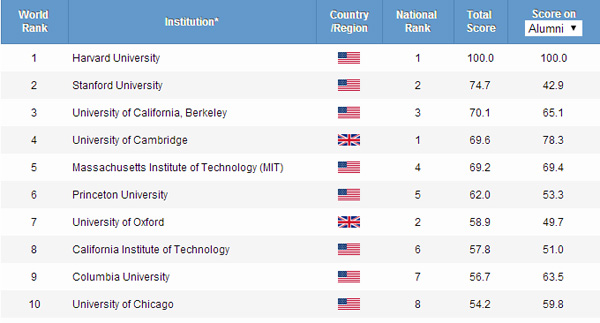 Tsinghua University and Peking University have for the first time broken through the top 100 global ranking of universities.
According to the 2016 Academic Ranking of World Universities (ARWU) released on Monday, Tsinghua occupies the 58th spot and Peking is at 71, said ShanghaiRanking Consultancy. A total of 41 Chinese mainland universities are among the top 500, nine more than in 2015.
Starting from 2003, ARWU has been presenting the world top 500 universities annually based on transparent methodology and third-party data. More than 1,200 universities are ranked by ARWU every year.
Harvard University retains its crown for the 14th year. It is followed by Stanford, University of California Berkeley, University of Cambridge and Massachusetts Institute of Technology.
Zhejiang University, Shanghai Jiao Tong University, Fudan University and University of Science and Technology of China are ranked from 101 to 150, posting better performance than last year.
Harbin Institute of Technology and Xi'an Jiaotong University have found place among the top 200 for the first time. China University of Geosciences (Wuhan) and University of Electronic Science and Technology of China, both making their debut, are ranked from 301 to 400.
The University of Hong Kong is from 101 to 150. Taiwan University and China Medical University (Taiwan) are from 151 to 201. Hong Kong Baptist University and Kaohsiung Medical University have for the first time entered the top 500 this year.
Tokyo University is ranked 20 this year, the sole Asian university to be among top 20 in the worldwide.
ARWU has been recognized as one of the trustworthy global university rankings, focusing on quality of faculty and research. Other popular rankings include Times Higher Education (THE) and QS World University Rankings.
ARWU adopts six objective indicators, including the number of alumni and staff winning Nobel Prizes and Fields Medals, the number of Highly Cited Researchers, the number of articles published in journals of Nature and Science, the number of articles indexed in Science Citation Index - Expanded and Social Sciences Citation Index, and per capita performance.