First person: College studies lead graduate to a game of Frisbee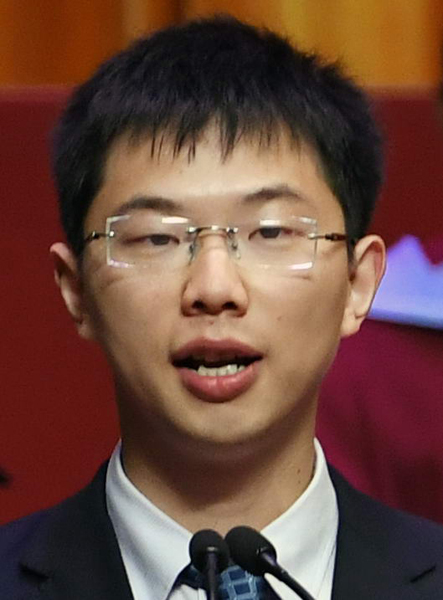 An Chenran, 31, was among the first cohort of students at the University of Nottingham Ningbo China. Now he is an entrepreneur running a business producing and selling Frisbees, an increasingly popular toy among young people. He attributed much of his success to the four years he spent at the university from 2004 to 2008.
I had no idea of what a Frisbee was before one of our expat professors invited me and some of my classmates to play this game with him.
You see that my alma mater has large lawns and open space? They are heaven for Frisbee games. The moment I started playing, I fell in love with this little, light plate. We really had a great time flying it on campus.
You also know that as finance students we sometimes had to do some homework, such as building business models or starting up business projects. As college students, we tended to start from things that we were familiar with. So, in a group project, we decided to work on our favorite game.
Knowledge and interest in the game grew quickly after we researched it, and in our final year of college, we six students registered and set up our own company.
During that process, we often turned to the professor - who led the way playing Frisbee - for guidance. He made some valuable suggestions and inspired us to come up with solutions, which benefited us a lot, not only in the very beginning, but still now.
I remember that the professor once advised us to combine the business with contests, as he believed that it would be helpful to cover more groups of people, attracting larger numbers of players and making the business a success.
We were not aware of how correct he was at the time because we were busy thinking about other things, like where to find the raw materials and where the factory should be located. However, as we have focused on the market recently, the remarks the professor made almost a decade ago came back to my mind.
Now we often try streaming Frisbee matches live online, or organizing matches for primary and middle school students. These marketing strategies turned out to be very successful.
Last year, we sold Frisbees worth a total of 5 million yuan ($750,000) to customers in China, Northern Europe and North America. Sales are expected to double in 2016.
An Chenran spoke with Zhao Xinying.