For student needs, provost lends a listening ear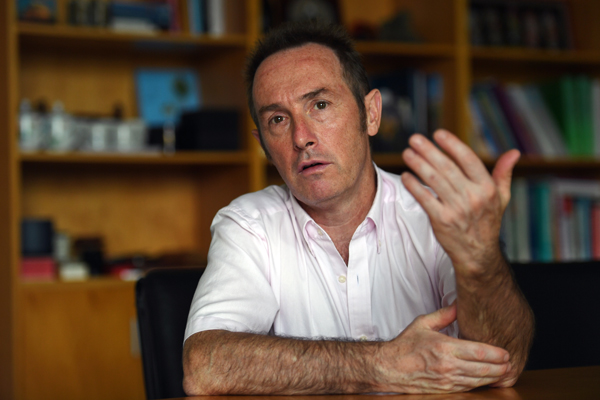 Chris Rudd, provost of University of Nottingham Ningbo China in an interiview with China Daily, July 2, 2016.[Photo by Wei Xiaohao/China Daily]
Most of the "big bosses" of universities, both in and out of China, don't teach undergraduate classes, but Chris Rudd, provost of the University of Nottingham Ningbo China, is an exception.
Having taken over the management of the oldest Sino-foreign university in China in August 2015, the professor of mechanics and materials taught second and final year undergraduates every week during his first academic cycle on the dynamic campus.
Calling it "deeply satisfying" to work with students and help them overcome challenges in their studies in professional courses and English language skills, Rudd said he actually chose to deliver classes out of his own need to get to know the thinking of his students and their parents.
"In making decisions about how we are going to grow this place, it's super important that we understand where the students are coming from and what their attitudes are," he said, adding that getting along with undergraduates on a weekly basis enables him to find out more about that.
Rudd also thinks it's an opportunity for him to talk to parents explain such things as why the tuition at Nottingham Ningbo - 80,000 yuan ($12,000) - is dozens of times more than that of domestic universities in China.
Although he loves teaching, Rudd said he still finds it challenging, as 95 percent of the undergraduates in his classes are Chinese, which means he has to put all his lessons in a Chinese context while working hard to get the same kind of interactive learning style that teachers would expect to have in a Western university.
"You may be giving the same class you've given for 10 years in the UK, but to get the same or even better learning outcomes here, you've got to work hard to challenge yourself, as well as challenge your students," he said, after realizing that Chinese students are not very active participants in class.
"So you've got to use different methods to make them interact, because if you don't try to attract them, they won't be getting value from the education, which they just paid a lot of money for."
Like other professors, Rudd also has office hours for his students.
Although the times are not as fixed as those of other faculty members, students can still send e-mails to him to make a reservation and talk about their studies.
Rudd said it's really exciting to teach while running the university, especially helping students break through difficulties in studies, whether it's a difficult concept or technical terminology.