University to 'guide, help, serve'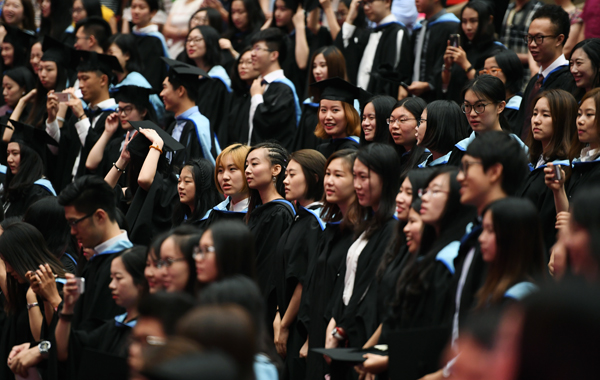 Graduates attend commencement at University of Nottingham Ningbo China, in Zhejiang province on July 2, 2016.[Photo by Wei Xiaohao/China Daily]
Editor's Note: China Daily is publishing a series of reports on universities jointly established by education institutions from China and overseas. As the colleges get busy with recruitment, our reporters visited them to talk with their senior leaders, teachers and students.
First joint-venture institution in China grows up quickly after its birth 12 years ago
China's first Sino-foreign cooperative university is making efforts to build itself into a high-level one that offers liberal arts education and attracts brilliant students from in and out of China, founders and operators of the university said.
"I hope that in the near future, the University of Nottingham Ningbo China will be widely recognized for the liberal arts education it offers to students, just like some of the best liberal arts colleges overseas enjoy," said Yang Fujia, president of UNNC and an academician at the Chinese Academy of Sciences.
Jointly established by the University of Nottingham in the UK and Zhejiang Wanli University in 2004, the UNNC is the first of its kind, which was believed to have offered a third way for high school graduates of China to pursue higher education, in addition to studying a domestic or overseas university.
Yang, a former president of Fudan University and former chancellor of the University of Nottingham, remembered clearly that the venture was nothing but a blueprint 12 years ago when its first cohort of 256 students had to study temporarily in the classrooms of Zhejiang Wanli University.
Now that the university has almost 6,000 students on a beautiful, western-style 60-hectare campus and is recruiting domestic students with increasingly high scores on China's national college entrance exams, Yang, a renowned nuclear physicist, has begun to feel that the "child" he had witnessed is growing up.
"More fraternities are hearing our name and story, which makes me very proud because it is really not easy to gain recognition from insiders," he said.
Shen Weiqi, vice-provost of UNNC, said the special position the university possessed helped it to learn from the best universities abroad.
"I have to say that Sino-foreign cooperation is a shortcut in building a high-standard university within a short period of time," he said.
Currently, the university has 682 international students, accounting for more than 11 percent of its student body.
"Although the proportion is fairly high among thousands of universities in China-maybe only lower than that of the Beijing Language and Culture University and the University of International Business and Economics-we still want to bring it to around 20 percent in the coming years," Shen said.
To make the joint venture a greater success, Yang believed that continuing to provide quality liberal arts education is the proper approach.
He believes that the idea of education popular in Western countries offers a wide range of courses including arts and sciences, small classes to ensure learning, and encouraging students to challenge their teachers.
But most importantly, Yang said, is that liberal arts education should be student-centered. Reflected in the recruitment of the university's faculty, Yang said the UNNC never recruits teachers solely on the basis of their research backgrounds or how many influential academic papers they have published.
"These things are important, but we paid more attention to whether the teachers have the ability to guide, help and serve the students," he said.
Wang Zehua contributed to this story.