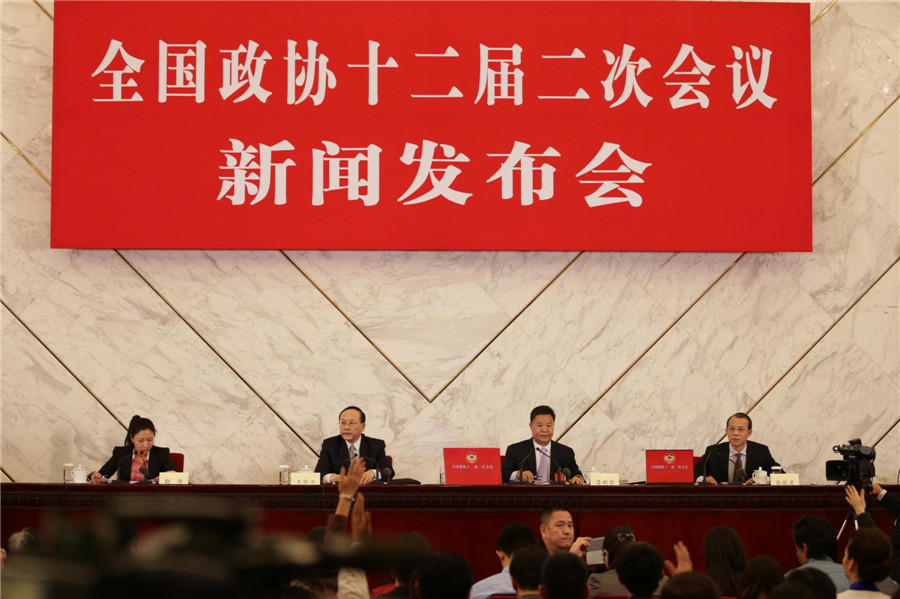 Photo taken on March 2, 2014 shows the scene of a press conference on the second session of the 12th Chinese People's Political Consultative Conference (CPPCC) National Committee, in Beijing, capital of China. The second session of the 12th National Committee of CPPCC, the national advisory body, is scheduled to open in Beijing on March 3. [Photo/Xinhua]
BEIJING - China is fully prepared for the annual session of the national political advisory body, which is to be held from March 3 to 12, said a spokesman on Sunday.
As of 12 am Sunday, 1,355 out of 2,229 members of the National Committee of the Chinese People's Political Consultative Conference (CPPCC) have registered at the secretariat of the session, said Lyu Xinhua, spokesman with the session, at a press conference.
The secretariat has received a total of 990 proposals and 303 speech transcripts, Lyu said.
The session is scheduled to open at 3 pm Monday at the Great Hall of the People in Beijing.
At the opening meeting, Yu Zhengsheng, chairman of the CPPCC National Committee, is expected to deliver a report on the work undertaken by the CPPCC National Committee's Standing Committee during the past year.
According to the session's schedule, political advisors will listen to and deliberate Yu's report as well as a report on the proposal-related work of the CPPCC National Committee since the last annual session.
Political advisors will also attend the annual session of the National People's Congress, China's top legislature, as non-voting participants.
State and Party leaders will attend the opening and closing meetings of the session and join political advisors in their discussions of state affairs, Lyu said.
The session will have three plenary meetings, at which political advisors will give speeches on deepening reform, economic development, environment protection, social and cultural progress, political development and united front work of the CPPCC, he added.
The session's opening, closing and other plenary meetings will be open to reporters while information on media access to penal discussions and joint penal discussions will be released in advance on the CPPCC website, together with some proposals, he said.
On the sideline, there will be three press conferences as well as a consultative meeting, according to Lyu.