Many people relax in a public swimming pool in the burning heat of summer, but Song Jian is forced to cool off beneath a bathroom shower.
"It takes courage for me to go swimming in a public pool," said Song, who uses an artificial leg to replace the one he lost in a car accident a few years ago. After he recovered, Song moved from Baoding to Shijiazhuang, capital city of Hebei province, to find a job.
Song is not lonely in Shijiazhuang, as he has the company of Guo Zhenshui and Liang Chaoxuan, who have both also lost a limb.
Guo, 28, comes from Langfang and had his right leg amputated due to illness. Liang Chaoxuan, 32, comes from Xingtai and lost his left leg on his first day working in a factory. Song, the eldest among the three, is considered as "big brother" by the other two.
They now sell artificial limbs and are literally walking advertisements for their products.
"Although we sell artificial limbs for a living, our goal is not simply to increase sales. We share the same experiences with our customers," said Liang, who has become good friends with a dozen of his customers.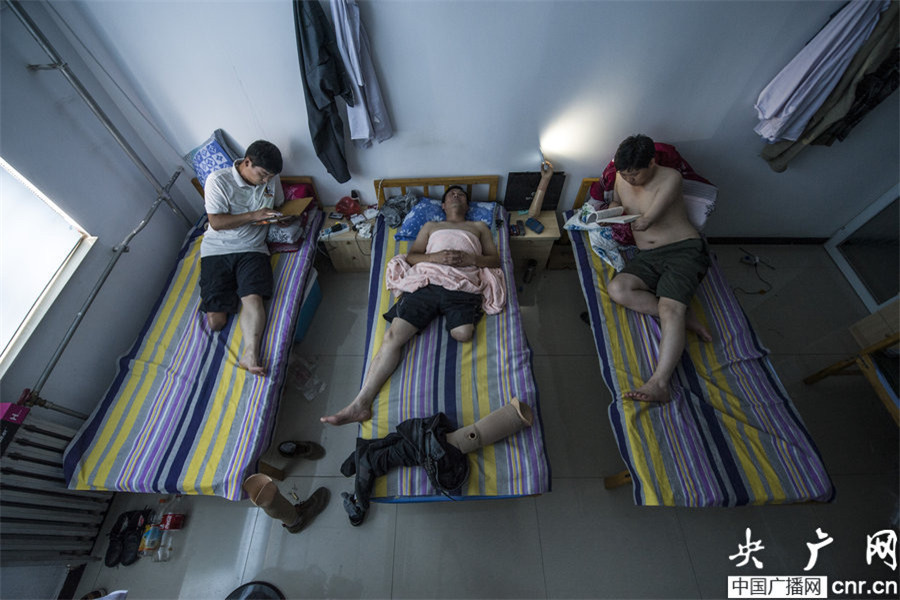 Guo Zhenshui, Song Jian and Liang Chaoxuan are seen at home in their simply furnished dormitory less than 20 square meters, on July 9, 2014.[Photo/cnr.cn]