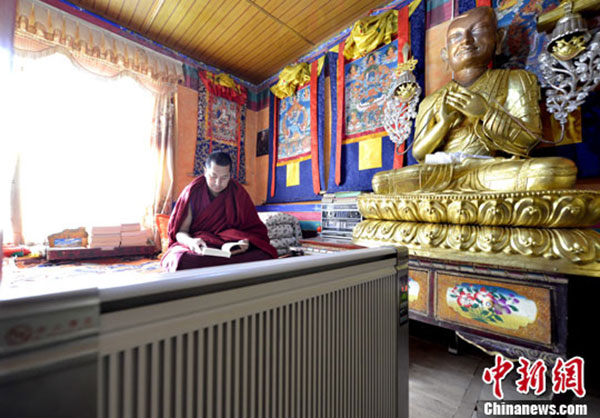 A file photo taken in 2013 shows the heating system installed in Ramoche Temple in Lhasa.[Photo/chinanews.com]
LHASA - A central heating project began construction in Ngari prefecture, the highest region in Southwest China's plateau region of Tibet, on Monday.
Work crews began laying piping for the project in Shiquanhe township, the seat of the prefecture with an altitude of more than 4,200 meters. They will provide heating to 25,000 local residents.
Ngari has 217 days a year with temperature below 0 degree Celsius. The lowest temperature recorded was 36.7 degrees Celsius below 0.
The central heating project, which will allow the prefecture government to close 150 small-sized boilers, will reduce consumption of 31,600 tonnes of coal, 103 tonnes of dust and 92,000 tonnes of carbon dioxide annually.
"We will not burn cow dung to warm ourselves any more," said Doje, a local resident in the town.
More than 1.4 billion yuan ($229 million) was invested in the project, which is expected to be completed in two years. The heating will come from a thermal power plant in the town.
The project will improve living conditions for local residents and promote environmental protection in the region, said Zhu Zhongkui, a senior official with the prefecture government.