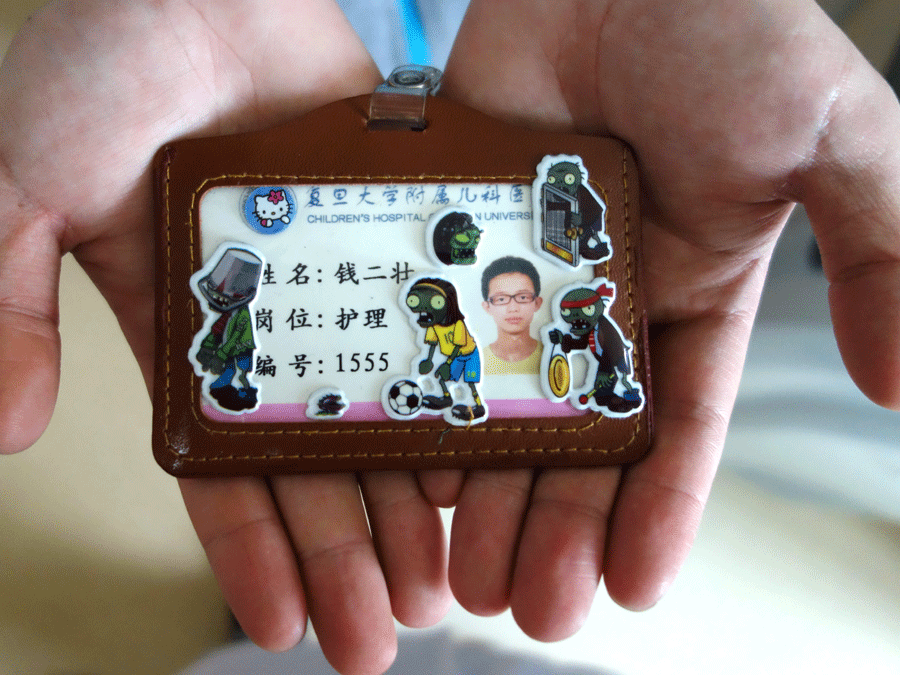 The stickers on Qian Erzhuang's work identity card at the Children's Hospital of Fudan University are from his juvenile patients. [Photo by Wang Juliang/Asianewsphoto]
A young man is pursuing a career dominated by women, his dedication hopefully will change the skepticism of many.
He tends to the patients' beds and medication, is skillful with the syringe and is welcome at the Children's Hospital of Fudan University in Shanghai.
Nearly two years after graduating from Kunming, Yunnan province, Qian Erzhuang has made a name for himself as a young man dedicated to the nursing profession.
The job is demanding partly due to the meticulous requirements of patients' relatives and partly because of the shift changes: two day shifts followed by one night shift and one swing shift.
His commitment wavered only once, and he considered resigning, but Qian managed to carry on with the help of senior colleagues. Now he is determined to pursue his career, especially in the renal dialysis wards.
"What we desire most is understanding and respect from patients and their relatives," Qian said of himself and his fellow nurses.
The worsening relationship between nurses and patients is seen as a major reason for the shortage of nurses in many hospitals. It is expected that more men like Qian will choose nursing as a profession.