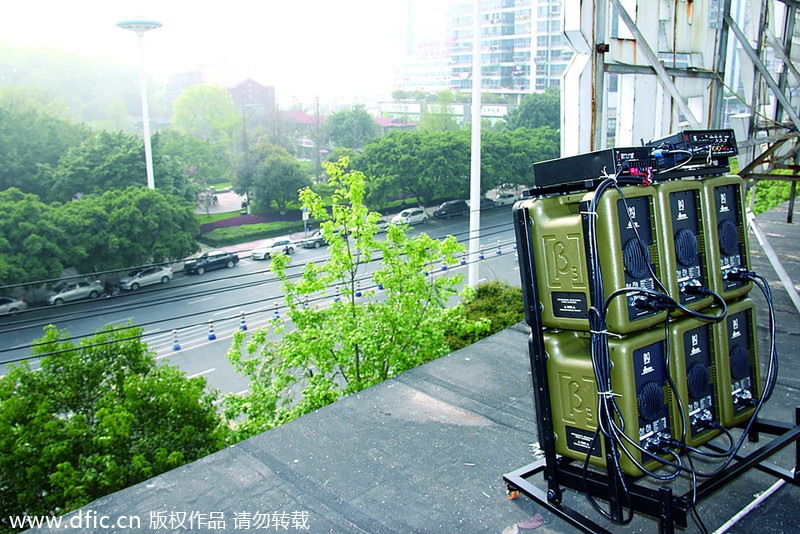 This photo taken on March 29, 2014 shows the sound amplification system outside a residential building in Wenzhou, which broadcast a message to dancers in the square on the other side of the street. [Photo/icpress]
People around the country have been talking about the issue of the noise caused by dancers in public areas, after residents in an eastern Chinese city bought an expensive sound amplification system, for the sole purpose of getting rid of dancers in a square near their homes who had long ignored pleas to lower the volume of their music.
A total of over 600 residents contributed funds to buy the equipment, which cost 260,000 yuan ($41,912), said the head of the property owners' committee of the New Guoguang Neighborhood in Wenzhou - a coastal city in East China's Zhejiang Province – with the surname Wu.
On Saturday afternoon, the system sounded off a siren and then repeatedly broadcast a message: "Please obey the Law of the People's Republic of China on Prevention and Control of Pollution from Environmental Noise. Stop this violation as soon as possible."
The investment did work – as the sound overwhelmed the music and forced dancers to leave.
This kind of group dancing in public squares is popular in Chinese cities, especially among retired people.
But Wu said that "the residents are irritated by the noisy dance music, which plays continuously from 6 am in the morning to 10 pm in the evening." And he added that "it was no use asking them to turn down the sound which we did many times - so we bought the equipment to fight them."
The expensive sound system is one of the ways urban residents in cities around China have found to force such dancers to leave.
In October, residents in Wuhan, Central China's Hubei Province, poured excrement on people dancing in a square. The dancers later said that the residents had previously thrown coins and rocks at them, and they had several arguments about the noise.